Mob lynches alleged blasphemer in Nankana Sahib; PM orders probe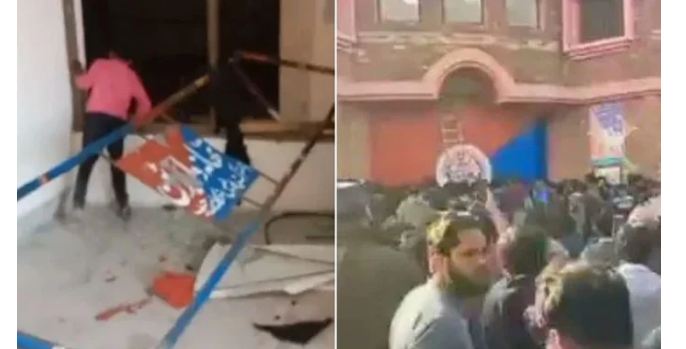 ISLAMABAD, FEB 11: In a ghastly incident in Punjab's Nankana Sahib, a violent mob Saturday burned a man to death after dragging him outside of a police station on allegations of blasphemy. As the mob was lynching the man — who was put behind bars for alleged blasphemy — Station House Officer (SHO) Warburton Feroze Bhatti and other police personnel escaped the scene, trying to save their own lives. Residents of the area claimed that the man — who had returned after spending two years in jail — used to practice witchcraft by pasting his ex-wife's picture on holy papers. Taking notice of the incident, Punjab Inspector-General Dr Usman Anwar suspended the SHO and Nankana Sahib Circle Deputy Superintendent of Police Nawaz Waraq for their failure in preventing the situation from turning violent. Strict departmental and legal action will be taken against those responsible for the incident and the perpetrators of negligence, a statement posted by the Punjab police on Twitter read.
PM orders probe, caretaker CM seeks report
Later, Prime Minister Shehbaz Sharif ordered an investigation into the Warburton police station incident and asked why the police did not stop the violent mob. "The rule of law should be ensured. No one should be allowed to influence the law," he said. He said that the first priority of the institutions responsible for peace and order is peace and that it should always come first. Mohsin Naqvi, the caretaker chief minister of Punjab, has also for a report from the IG on the incident, directing an investigation from every aspect. He instructed that legal action be taken against those who take the law into their own hands. Meanwhile, Pakistan Ulema Council (PUC) Chairman Tahir Mehmood Ashrafi has condemned the incident, saying killing and burning someone accused of blasphemy is a cruel act."Inhuman torture and killing the person, accused of blaspheming the Holy Quran in #Nankana Sahib and attacking at the police station is regrettable and condemnable," he wrote on Twitter.