Media role stressed in further developing Pak-Azerbaijan ties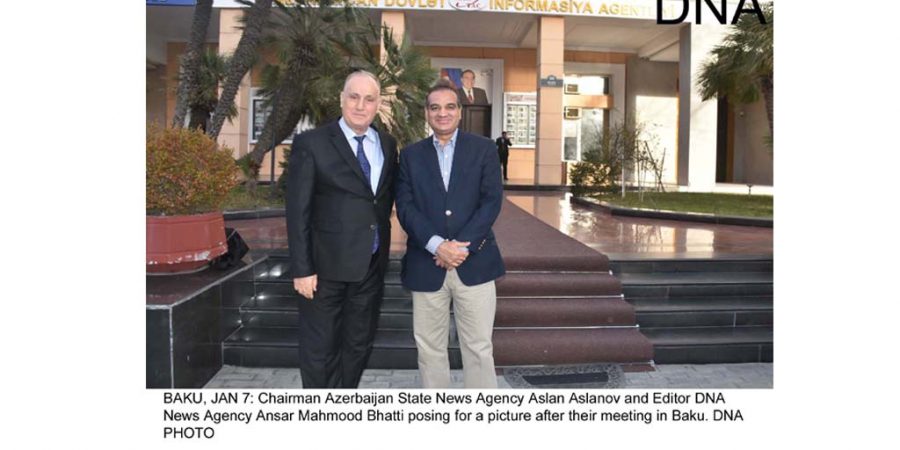 By ANSAR M BHATTI
BAKU, FEB 7 (DNA)=  Azerbaijan and Pakistan enjoy excellent relations in all fields and these relations have grown steadily and strongly with each passing day. Both countries have cooperated with each other on various forums and Azerbaijan is indebted to Pakistan for not recognizing Armenia that occupies Azerbaijani territory Nagorno- Karabakh.
Aslan Aslanov Chairman of the Board, Vice President of OANA and Azerbaijan State News Agency AZERTAC said this while talking to a media delegation from Pakistan. A 12-member delegation comprising senior media persons is currently in Baku to observe upcoming parliamentary elections to be held on February 09.
He said OANA was the biggest information agency in the region and under the framework of this information service Azerbaijan and various media houses have joined hands for exchange of news etc.
He said Pakistan was an important and brotherly country therefore Azerbaijani media outlets were keen to further expand and strengthen their cooperation with Pakistani counterparts.
He said they already had reached an MoU with Pakistani state owned news agency while such MoUs with other news agencies were also under consideration.
Aslan Aslanov also talked about Baku Humanitarian Forum and highlighted role of this forum in development and strengthening of Azerbaijan relations with other countries.
He said Heydar Aliyev Foundation headed by the First Vice President Mehriban Aliyeva was actively engaged in Pakistan on a number of humanitarian and relief projects.
He said AZERTAC had offices in 21 countries adding they will soon have an office in Islamabad as well. The opening of office in Islamabad is a manifestation of our commitment and strong desire to expand and cement ties with Pakistan in all fields.
" The process to open AZERTAC office in Islamabad is in final stages. We have already shared a revised MoU with the Ministry of Foreign Affairs of Pakistan and as soon as we get a green signal from them we could establish an office", he added.
The Chairman said they published information in 80 languages adding the social media even in Azerbaijan was getting popularity at a fast speed. He said millions of people now use social media platforms to share information and stay connected.
To a question Aslan Aslanov said the purpose of signing MoUs with various media outlets was to share information and experiences adding the social pages of their news agency were very popular and 90 per cent of especially the young people accessed our site through various social media platforms.
He said AZERTAC was founded by the Government of the Azerbaijan on March 1, 1920, functioned under various names during the Soviet period.
Giving a brief background, he said, the Agency restored its historical name after Azerbaijan regained state independence. From March 3, 1995 to January 17, 2000, the agency bore the name "State Telegraph Agency under the Cabinet of Ministers", and then was renamed "Azerbaijan State Telegraph Agency".
He further said, along with the official government information, AZERTAC wires in Azerbaijani, English, Russian, French, German, Arabic, Chinese and Spanish languages the round-the-clock news covering all spheres of life in Azerbaijan including politics, economy, culture, sports, health, environment and others.
Aslan urged the Pakistani media to join hands with them in order to further promote and develop bilateral relations adding media ostensibly can play an important role in strengthening bilateral relations.=DNA
==============