MCI launches "Clean and Green Campaign" to further beautify capital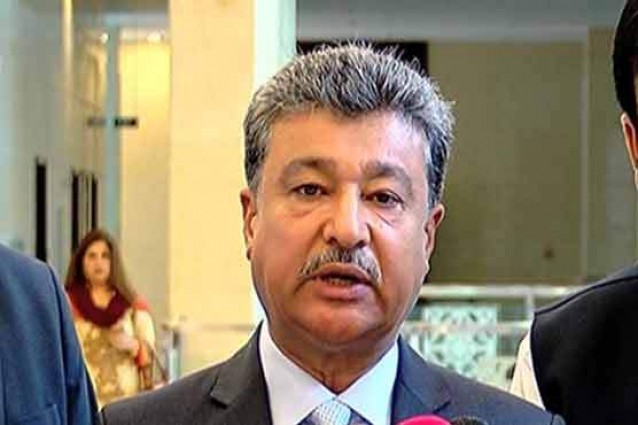 ISLAMABAD, NOV 01 (DNA) – Metropolitan Corporation Islamabad (MCI) is committed to make the Capital City environment-friendly and one of the most beautiful cities of the world.
The elected representatives of the all union councils of Islamabad have the abilities to play their role in Clean and Green Islamabad campaign. The elected representatives of Islamabad would ensure availability of best sanitation facilities in their areas.
Mayor of Islamabad and Chairman Capital Development Authority (CDA), Sheikh Anser Aziz expressed these views on the eve of inaugural ceremony of Clean and Green Islamabad campaign here at Sector G-6 on Wednesday.
On this occasion, elected representatives of union councils of Sector G-6, Director General (Civic Management), MCI, Director General Environment, Director General Works, Director General Services and officers of concerned formations of MCI and CDA, children from different schools, representatives of different NGOs and a large number of residents from Sector G-6 were also present.
Mayor said that being capital city, Islamabad is the face of Pakistan and the main purpose of Clean and Green Islamabad campaign is to keep it clean and enhance its green cover to make the city environment friendly.
The campaign would be extended to all parts of Islamabad, Mayor of Islamabad added. During the campaign, concerned formations of MCI and CDA would also carry out awareness drives about the sanitation and would address the complaints about the problems faced by the residents of Islamabad.
During the three day campaign in Sector G-6, Sanitation Directorate, City Sewerage Division, Environment Wing, Roads Directorate, Directorate of Municipal Administration, Enforcement Directorate, Street Lights Division, Health Services Directorate and other concerned formations of MCI would perform their duties, which includes sanitation, removal of encroachments, removal of shrubs and wild bushes, repair and maintenance of street lights, repair and maintenance of parks, issues related to water supply, repair and maintenance of streets etc.
The cleanliness drive would also continue for three days in commercial centres including Melody Market, Aabpara Market, and other class-III shopping centres of Sector G-6, while all kinds of encroachments would also be removed from G-6 area.
During the campaign, three days (Tuesday, Wednesday and Thursday) would be given to each sector of Islamabad.
Later, Mayor led Clean and Green Islamabad awareness walk from G-6 to Aabpara Market. The awareness walk was participated by school children and a large number of people.
He visited Aabpara Market and residential areas of Sector G-6 and issued directions to the concerned officers on the spot about the problems of traders community and residents. Anser
Aziz said that the purpose of awareness walk is to promote the importance of cleanliness. He said that Islamabad is our city, adding that this is the responsibility of the people from all walks of life to keep the city clean and environment friendly.
He further added that Clean and Green Islamabad campaign is now formally commenced. He said that he will personally supervise the campaign and would pay surprise visit during the cleanliness drive.
He directed the Director Generals of concerned formations to monitor the campaign and ensure the presence of all officers on the desk so that the complaints of the residents could be addressed timely and make the ongoing cleanliness drive successful.
Mayor said that cooperation of the citizens for the successful campaign is necessary; however, he expressed his commitment that MCI and CDA would utilize all available resources for the cleanliness campaign.=DNA
==========