Maryam Nawaz returns to Pakistan after 4-month stay in London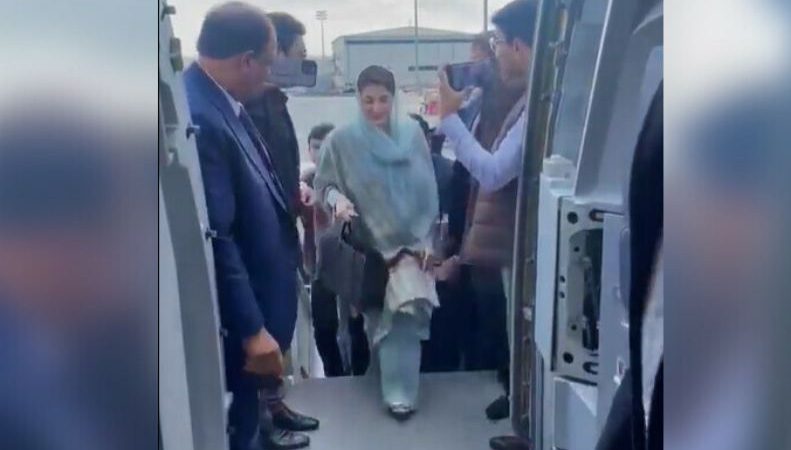 Lahore, JAN 28: PML-N senior vice president Maryam Nawaz returned to Pakistan today (Saturday) after a nearly four-month sojourn in London. Upon her arrival at Lahore Airport, she tweeted: 
"Pak sar zameen shad bad."
Earlier, party spokesperson Marriyum Aurangzeb said Maryam was returning to begin the "reorganisation of the party". She had left Pakistan for London in October last year, just a day after her passport was returned to her. At the time, she said she was "eager" to meet her father Nawaz, whom she hadn't met since 2019. In a tweet today, Aurangzeb said Maryam will reach Lahore today by 3pm. "Party leaders, workers and people are eagerly and happily waiting for Maryam Nawaz," she said. "Maryam Nawaz will return to the country and start the reorganisation of the party." She departed London for Pakistan yesterday. It is understood that she will build the party's election narrative, as formulated by Nawaz, holding Imran Khan, former judges and military officers responsible for the economic and political instability in Pakistan. It comes after Interior Rana Sanaullah announced that she would return on January 28th (today). He also said there would be a "huge reception" awaiting her at the Lahore airport. On Saturday afternoon, PML-N Punjab's Twitter account posted a video of Maryam boarding a plane from the UAE.
Elevation to top role in party hierarchy
On January 3, in a move that was seen as a significant development in terms of the PML-N's internal politics, Maryam was elevated in the party ranks, making her one of the party's senior-most leaders in the country. In a notification, PML-N President Shehbaz Sharif appointed vice president Maryam Nawaz as 'senior vice president and chief organiser' of the party with immediate effect. Earlier, former prime minister Shahid Khaqan Abbasi was the only senior vice president of the party. PML-N chief Shehbaz also authorised her to "reorganise" the party "at all functional levels". "Pursuant to the powers conferred under the constitution of the PML-N, the undersigned (Shehbaz Sharif) is pleased to appoint Maryam Nawaz Sharif as senior vice president with immediate effect. She is authorised to reorganise the party at all functional tiers/levels as chief organiser," the notification says. PM Shehbaz said in a tweet: "I have appointed 
@MaryamNSharif
 as senior vice-president of PML-N. She has the drive, determination & experience to lead the party's organizational matters. I have no doubts that she will very effectively galvanise our party's rank & file with the vision of our Quaid Nawaz Sharif."