Making Islamabad a crime-free city is the primary responsibility of the Police: Shoaib Khurram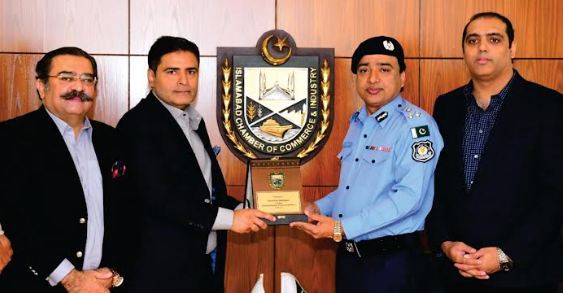 ISLAMABAD, MAY 29 /DNA/ – DIG Safe City Project Islamabad Police Shoaib Khurram Janbaz has said that the police is working to make Islamabad a crime-free city. The Safe City project has helped significantly in reducing crime. Work is being done to provide 100% coverage of the Safe City Project in urban areas of Islamabad. Steps are being taken to bring markets and parks into the project. There is a need to increase cooperation between ICCI and Safe City Project.
He expressed these views while talking to the president of the chamber, Ahsan Zafar Bakhtawari, during his visit to the Islamabad Chamber yesterday. On this occasion, he invited the delegation of Islamabad Chamber to visit Safe City Headquarters In the meeting, cooperation between the two institutions was discussed and various possibilities were reviewed.
DIG Safe City Project said in his speech that Safe City Project has proved to be helpful in eliminating crime from Islamabad and bringing criminals to justice. At present, the coverage of Safe City in all urban sectors of Islamabad is 60 to 70 percent, which is targeted to reach 100 percent. Work is being done to take the project to newly constructed sectors as well. He said that many reforms have been brought in the traffic system in the city. Alternative arrangements have been made in areas where there were traffic problems
Talking on this occasion, President of Islamabad Chamber of Commerce and Industry Ahsan Zafar Bakhtawari said that the prevention of crimes is necessary for the security and survival of Pakistan, because domestic and foreign investors are slowly diverting their attention from Pakistan due to crime. We have to look at the eradication of crime with national security, only then we can get rid of this evil. He said that the Safe City project is commendable and has benefited the city a lot. To increase the effectiveness of the plan, its coverage should be increased. There is a need to increase the cameras of the Safe City project and improve the monitoring at the entrances of Islamabad. He said that first aid points should be started at public places so that immediate help can be provided in case of an accident. Ahsan Zafar Bakhtawari said that Islamabad Chamber is going to start FM radio channel soon. Islamabad Police, especially the Safe City Project, should take advantage of this. Police should organize awareness for healthy activities among the youth, Islamabad Chamber will fully cooperate in this regard.
On this occasion, Senior Vice President Islamabad Chamber Faad Waheed said that there is a need for a sustainable policy to solve traffic problems in the city. Traffic engineering needs to be used during road construction to avoid ruts, ruts and other problems. Former President Islamabad Chamber Zafar Bakhtawari said that there is a need to create fear of cameras in criminals. Under Safe City, there should be such a system that before committing a crime, the criminal has to fear that his movements are being recorded.