LoU signed for promoting Senior Citizens' rights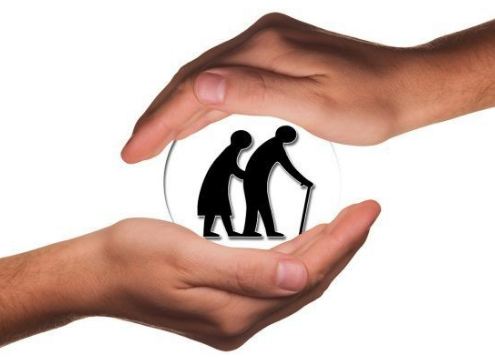 The LOU was signed by Abdul Sattar, Director General, Ministry of Human Rights and Syed Moeez Kakakhel, Country Director, Help Age International
ISLAMABAD, May 2 (DNA): The Ministry of Human Rights, Pakistan and HelpAge International on Tuesday signed a letter of understanding (LoU) to promote and protect the rights of senior citizens.
The ceremony was held in Islamabad.
The LOU was signed by Mr. Abdul Sattar, Director General, Ministry of Human Rights and Syed Moeez Kakakhel, Country Director, HelpAge International. The event was attended by government officials from MoHR, representatives of Civil Society, media and senior citizens. In his welcome remarks, Rana Tariq Ali, Deputy Director MoHR informed the participants that the National Assembly had passed "The Islamabad Capital Territory Senior Citizens Bill, 2021". He highlighted the steps taken so far to roll out the act. Ministry has constituted the senior citizens' council at the Ministry headed by the Federal Minister for Human Rights. The Ministry of Human Rights, he said is bound to create a senior citizens fund whereas the matter has been taken up with the finance ministry and will be approved this year. "We will need guidance in creating old age homes and regulations keeping in view the global best practices as it has become a need of the hour," he said. He underlined that the grievances committee constitution and its rules are also needed under the legislation. Punjab government has established old age homes in seven divisions but has not framed any law on it, he said, "We not only intend to bring legislation but rather an attitudinal change in the society pertaining to senior citizens." "A senior citizen card will also be issued and they will be entitled to not stand in queues and also get 20% discount on medicines," the Deputy Director said. In addition, he said the Ministry has to do a lot of work and will need cooperation from civil society in this regard. Syed Moeez-Kakakhel, Country Director HelpAge International said the population of senior citizens globally was rising with population growth. He added that around one billion population in the world is above 60 years of age, and it will cross 1.4 billion by 2030. "Pakistan is the fifth most populous country and its old age population will reach 43 million by 2030. The youth population to shrink and senior citizens number will rise with time," he added. The Country Director noted that women's life expectancy is more as compared to men in Pakistan whereas both equally faced the issues of secure income and health problems. He also highlighted that climate change resulting in various natural disasters like floods, heatwaves etc. in which older people are the most affected.  Mr Moeez emphasized on the involvement of the younger generation in educating the senior citizens on technology usage, Mr. Shahzado Khaskheli, Head of Programs, HelpAge International – Pakistan said the world population on November 15, 2022, reached eight billion and the planet Earth could only accommodate the same number of people. "Aging population is growing very fast. As per 2017 there were 962 million old-age people which is 13% of the global average. By 2050 100+ population to constitute 3.4 million international frameworks related to population ageing," he added. Syed Sajjad Hussain, project coordinator HelpAge International – Pakistan provided a detailed account of HelpAge role in advocacy and needs assessments done across the country to ensure legislation for ageing population. He also briefed the participants on the project titled "Strengthening the Legal Framework and Civil Society for Age Inclusive Pakistan" Or the Ageing Pakistan project. The project will be till 2025 for an inclusive society also focusing on digital resources for age-inclusive measures, he added. Mr. Salman Khan, Development Cooperation Specialist from German Embassy in his remarks said Pakistan is facing serious threats due to climate change, food security, inequalities, inflation etc. However, Pakistan and Germany last year celebrated their 70th anniversary of bilateral ties. The project being briefed today has been built on the knowledge of different programme of BMZ (German Development Organization) on the same in various provinces. Germany remains committed to support Pakistan and its people for development," he added. Mr Javed Alam, Ex Director General, the Ministry of Social Welfare and Special Education, shared different components of old age issues that need redressal in policy making. Mr. Muzzafar Mahmood, Former Federal Secretary, MoHR said it was a moment of great pleasure that after a long time, the department achieved the goal and started developing different initiatives that were much needed related to Ageing population. He shared a comparative analysis of the Senior Citizens Acts of the three provinces and ICT. The Sindh Senior Citizens Welfare Act, 2014 is elaborate, and we need to learn from it, he added. Bilquis Tahira from Shirakat Organization, pointed out that the proposed "The Islamabad Capital Territory Senior Citizens Bill, 2021" aims to provide advantages to the elderly. However, the elderly community is not seeking special treatment as they are not a group of dependent individuals. Instead, they aspire to actively participate in society and make valuable contributions, showcasing their capabilities and strengths. The changing of mindsets is extremely important whereas the use of language in policy is important and needs to be focused on by the stakeholders, she added. DG MoHR Mr Abdul Sattar in his concluding remarks said the Ministry will make all-out efforts to ensure the Senior Citizens Act implementation and achievement of all of its objectives in the shortest possible time.