Lok Mela showcases the artistry of over 400 Pakistani artisans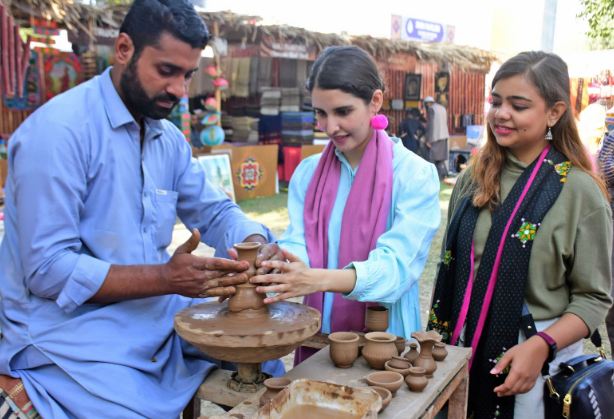 ISLAMABAD, NOV 4: /DNA/ – Apart from many entertainment programs for the visitors, the exhibition of the work of the artisans is a special attraction for the visitors at the ongoing "Lok Mela" organized by Lok Virsa.
More than 400 artisans are seen showcasing their work of making aestheticallymade handicrafts, using their creativity in folk arts and crafts and mesmerizing the visitors with their unique craftsmanship.
Handicrafts on display include embroidery (including Multani, Bahawalpuri, Hazara, Swati, Balochi and Sindhi embroidery), block printing, wood lacquer work, khusa making, pottery, chunri work, doll making, khaddar weaving, truck art, wood carving, namda and gaba, metal work, shawl weaving, zari work, bead work, ajrak, stone carving etc.
Lok Virsa being an important institution for promoting Pakistani folk culture, is well aware of the need for gender equality, that is why the stalls of women artisans are seen in every pavilion. Bothmen and women have an equal opportunity to express their talents in the mela.
Many women artisans can be seen displaying their skills in the melaas well. The most prominent among them is Kaneez Fatima. She is an expert craftsman of Balochi embroidery and is carrying forward this centuries-old tradition of her ancestors and has dedicated 35 to 40 years of her life to this profession and making this art useful for future generations too.
Men artisans are also no less than women in demonstrating their art, among them Muhammad Riaz, an expert craftsman of lacquer work hails from Silanwali, Punjab. His father was also an expert craftsman. He continued to exhibit his art in many fairs and exhibitions across the country and was awarded several times with cash prizes and certificates. He was recently conferred upon President's medal for Pride of Performance.
Fayyaz is an expert block printing artisan using the natural dyes from KahrorPakka. The centers of the ancient art of wood block making are in the lower part of the Indus Valley which encompasses southern Punjab and the whole of Sindh. It is a more than 9,000-year-old craft dating back to the Mehrgarh civilization in Balochistan, which is the earliest evidence of pottery production.
The Indus Valley Civilization of MohenjoDaro in Sindh and the Harappan Civilization of Punjab (5,000 BC) indicate traces of cotton and woolen cloth production. The form, design and color of Pakistani handicrafts still have a dominant historical influence at the core. Handicrafts represent a valuable material heritage, a solid part of our historical and contemporary culture. Unlike in the West, most traditional crafts in Pakistan are neither a profession nor a hobby, but an integral part of a diverse cultural pattern.
The impact of the industrial age is destroying the heritage of this craft in rural areas as well, but there is a recent trend towards the use of handicrafts as art in urban homes. Historical motifs and designs are being revived by an increasing number of artisans and designers for the tourist and export trade.
Keepingthe tradition alive, a match of traditional wrestling of Punjab Kabaddiwas held at Mela grounds on 4th November. Two teams from Faisalabad arrived and gave thrilling performance of Kabaddi amid loud beating of drums, which was appreciated by a large number of crowd.
At the evening, a Qawwaliconcert was organized at the Open Air Theater featuring the famous QawwalBakshi Brothers. He performed Qawwali in their unique style and gave an electrifying and riveting performance and received great applause from the fans.