LHC summons Punjab, Islamabad IGs over failure to produce Fawad Chaudhry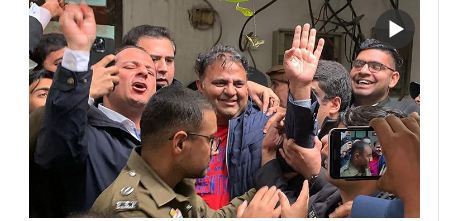 LAHORE: The Lahore High Court (LHC) on Wednesday summoned the inspector generals of Islamabad and Punjab police after the authorities failed to produce Pakistan Tehreek-e-Insaf (PTI) leader Fawad Chaudhry before it. Fawad was arrested from his residence earlier today after he publicly "threatened" the members of the 
Election Commission of Pakistan
 (ECP)  in a media talk outside Imran Khan's residence in Zaman Park a day ago. The LHC had ordered authorities to present Fawad before it in response to a petition filed by Fawad's cousin, Nabeel Shehzad, for the "recovery" of the former federal minister. The petitioner had filed a habeas corpus plea and urged the court to "recover" the PTI leader after the Islamabad police acquired his transitory remand. He also appealed to the court to stop any illegal action against the PTI leader. Justice Tariq Saleem Sheikh heard the plea and ordered the authorities to present the PTI leader before the court by 1:30pm. The time was later extended to 2pm, but the authorities failed to produce Fawad before LHC. Interestingly, the orders were issued after a local court of Lahore had approved Fawad's transitory remand in a sedition case filed against him in Islamabad on the Election Commission's complaint.
'Bring back Fawad': LHC judge
At the resumption of the hearing at LHC, Fawad's lawyer informed the court that the motorcade transporting Fawad has left for Islamabad. The government's lawyer said that he is unable to state Fawad's exact location. At this, Justice Sheikh asked the lawyer how long it will take for him to inquire about the location. The lawyer said that he needs half an hour. "Bring him back even if he is taken to Islamabad," Justice Sheikh remarked before adjourning the hearing for a while.
LHC summons IGs Punjab and Islamabad
When the case resumed, Justice Sheikh inquired where the PTI leader was. The government lawyer responded by saying that that he has spoken to everyone and the PTI leader was not in the Punjab Police's custody. "Call IG Punjab," responded Justice Sheikh. The judge after passing the remarks said that the police chief was not available at the moment. The judge then issued orders to IGs Punjab and Islamabad to appear before the court at 6pm. "First present Fawad and then I will hear you," remarked Justice Sheikh before issuing the summoning orders.