KSA highly values its cordial relations with Pakistan: Ambassador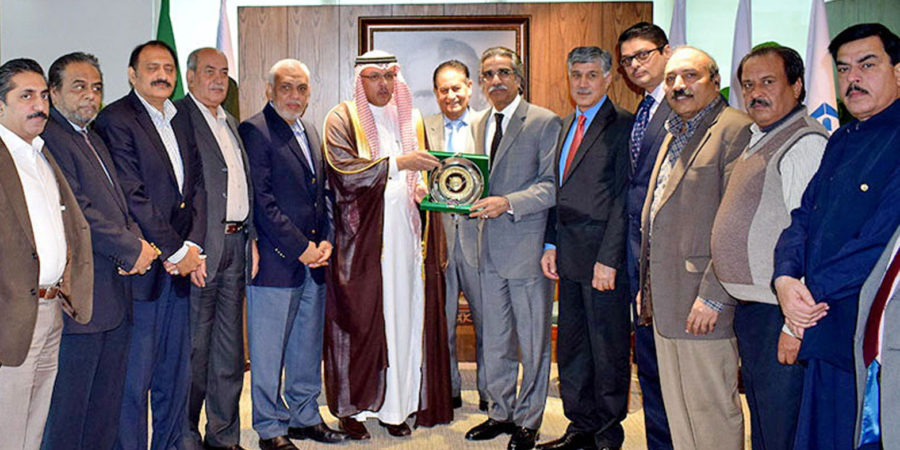 ISLAMABAD, NOV 22 (DNA) – Kingdom of Saudi Arabia (KSA) on Tuesday announced to give two-year multiple visa to Pakistani businessman recommended by the Federation of Pakistan Chambers of Commerce and Industry (FPCCI).
This was decided at a meeting between Saudi Ambassador to Pakistan Abdullah Marzouk Al-Zahrani and President of the FPCCI Abdul Rauf Alam. Leaders of the business community of twin cities were also present on the occasion.
During the meeting President FPCCI drew attention of the Saudi envoy towards various problems faced by the Pakistani business community while visiting KSA which were well taken.
Saudi Ambassador Abdullah Marzouk Al-Zahrani announced to provide multiple entry visa to Pakistani businessmen recommended by the Apex Chamber. He said that KSA highly values its relations with brotherly Islamic country of Pakistan.
We want to enhance cooperation with Pakistan in various fields including trade, commerce and culture, he added.
He said that we are moving Saudi Arabia's economy beyond oil which is also a great opportunity for Pakistani investors.
We are injecting new dynamism into our economy through a productivity and investment led transformation that will help ensure future growth, employment, and prosperity, the envoy said.
The sectors in which Pakistanis can invest include agriculture, honey and beverages, processed food, oil, gas, petrochemicals, power including solar and other renewable energy, water and wastewater, financial and professional services, education, training and human capital development, mass transport infrastructure including new rail, metro and bus links, environmental technology and services, ICT, consumer and luxury goods, security services, healthcare and life sciences, and mining, he said.
He said that Pakistani investors will be given all the facilities in the kingdom to establish their businesses.
AT the occasion, President FPCCI said that from 2003 to 2013 Saudia saw rising prosperity, household income rose by 75 percent, 1.7 million jobs were created, GDP doubled and reserves amounted to almost 100 percent of GDP but now it no longer can rely on oil revenue.
He said that although parts of the Middle East have seen political turmoil since few years, KSA has remained stable and investors still view it as an attractive place to do business.
The Saudi Riyal is one of the world's most stable currencies and there have been no significant changes in its exchange value during the last three decades therefore businessmen can invest there without any fear, he added.=DNA
==============