KP Government Faces Vital Challenges Impeding Transition to E-Governance   By Amna Masood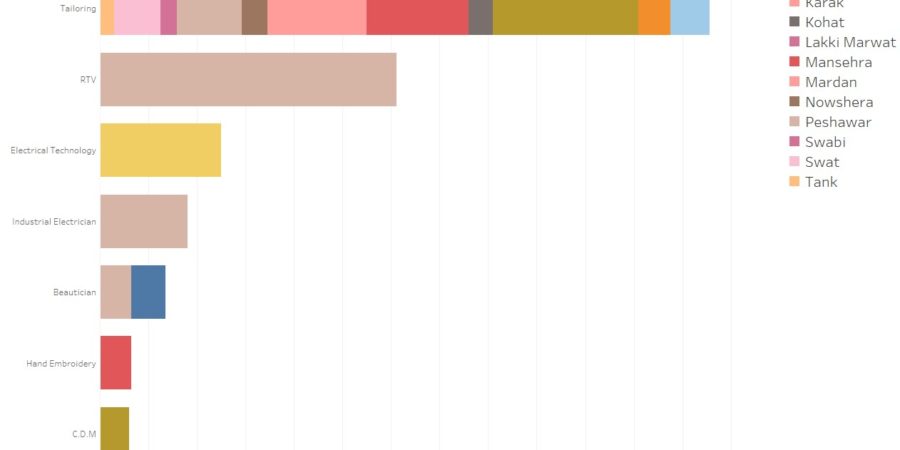 The past five years have seen a tremendous upheave from KP government in terms of launch and execution of multiple ICT initiatives and citizen level projects apart from being the first legislative assembly in the country to automate legislature.The execution structure for the implementation of e-governance initiatives however lacks a few basic ingredients that needed to be addressed for a realistic e-dream.
Data obtained from Vocational Education Report for 2013 for Khyber Pakhtunkhwa shows that 62 out 100 enrollments are for courses offered in electrical work, RTV and electrical technology while 24 out of 100 enrollments are for tailoring and only 1 in 100 enrollment is for a course in computers or information technology.
A survey conducted by a private company along with Directorate of IT, KP during a series of information seminar on e-governance in eleven districts of KP revealed that on an average three government employees out of ten remain online for 1 to 5 hours daily out of which majority staff spend their time surfing social networking sites and checking news. One in every ten employees use internet less than an hour daily and 4 out of 10 connect online once only in a week.
Applications for email and online collaboration/communication are not routinely used and 90% of the official communication is still handled through hard copy letters and documentation. This was manifested by the observation in several districts that official emails are created on free version of Google email often handled by a single computer operator.
On the other hand, initiatives like setting up WhatsApp groups for coordination and communication at district level has sped up some processes and the trend has caught up in line departments. Huma Kosar, assistant programmer in Education Department, Haripur said, 'Some tasks are now automated because of Whatsapp groups'. She further added, 'Simple coordination with school principals and teachers that took months previously due to paperwork involved is now done in minutes'. These process, however are limited to being departmental or personal initiatives and need to be formalized with official protocols and procedures.
Internet connectivity and electricity along with lack of IT equipment like computers, laptops and servers remain prime nuisances. Eight out of ten government employees believe that lack of IT infrastructure in district offices along with need for proper training and capacity building is the most imperative hurdle in the implementation of a paperless transformation.
Three out of ten government employees consider lack of technical vision and strategy to be the biggest hurdle while only one out of ten considers change management to be an issue. Skilled people with technical savviness at the managerial and decision levels is a gap that needs to be filled. Four out of ten government employees think that transparent monitoring and evaluation can help in effective change management.