Korea to establish biggest IT Park in Pakistan to promote SMEs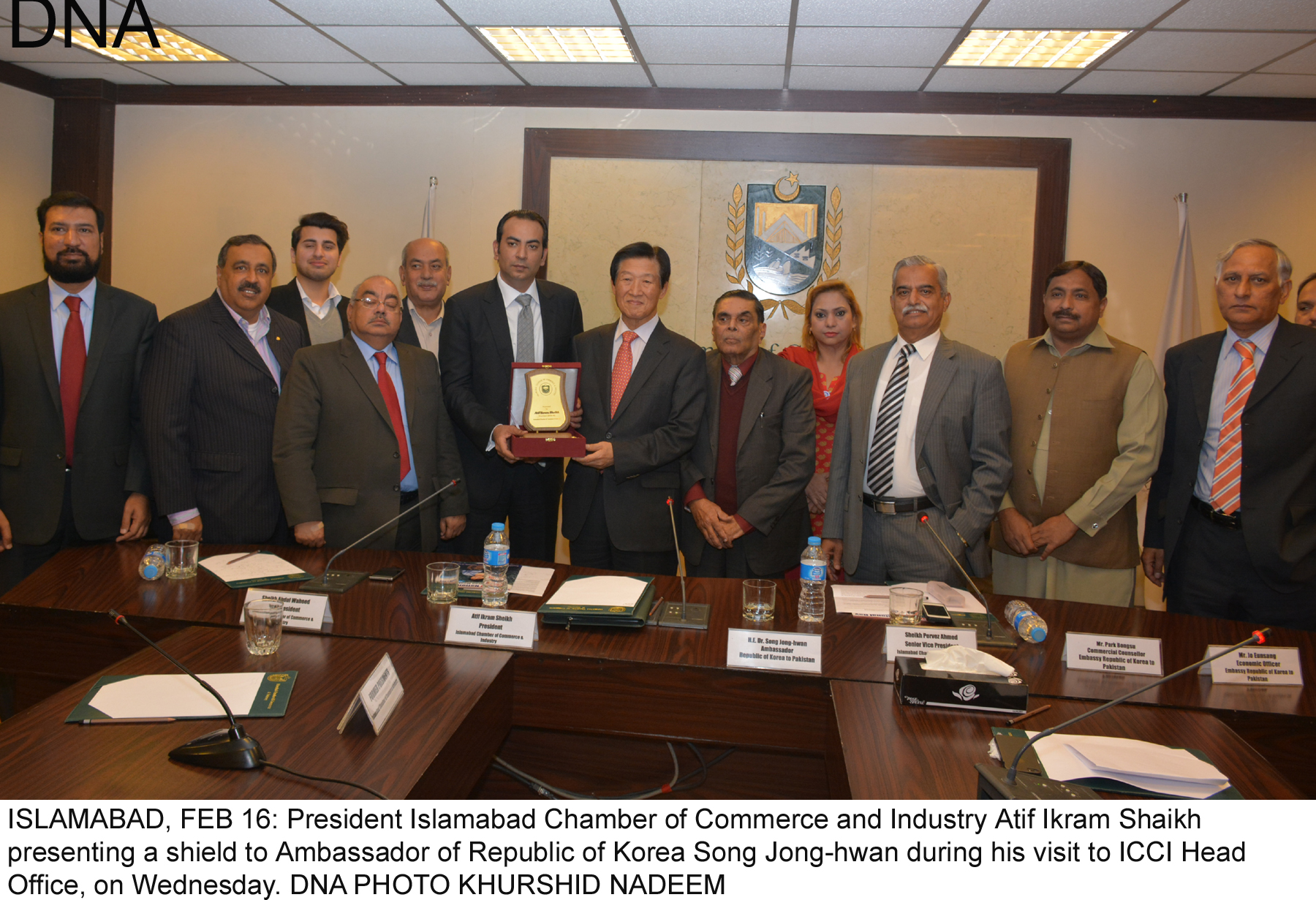 ISLAMABAD, FEB 17 (DNA) -. Dr. Song Jong-Hwan, Ambassador of South Korea said that Korea would establish one of the biggest and most advanced IT Park in Islamabad at an area of about 1 million square feet to promote SMEs as the facility would provide SMEs and start-ups in IT industry with office spaces equipped with advanced IT infrastructure and security facilities.He said the IT Park would be set up in collaboration with Ministry of IT of Pakistan and it would provide most advanced business facilities to IT companies in Pakistan.
He said this during an interaction with business community at Islamabad Chamber of Commerce and Industry.
He was accompanied by Mr. Park Bongsu, Commercial Counsellor and Mr. Jo Eunsang, Economic Officer, Embassy of South Korea.
The Korean Ambassador said that bilateral trade between Pakistan and Korea had declined by almost 34 percent during the last three years which should be a cause of serious concern for both sides.
He termed non-availability of trade related information and lack of understanding about promising areas of cooperation as major reasons of low trade volume.
However, he said that Pakistan and Korea have started the process of free trade agreement feasibility study of which would be completed by end of June this year and added that both sides were expecting big jump in bilateral trade once the FTA was signed.
He said Korea was cooperating with Pakistan in energy sector and added that Korean Importers Association (KOIMA) was looking for partners to import thousands of tons good quality copper ore per month from Pakistan.
He said that tremendous untapped possibilities of mutual cooperation existed between Pakistan and Korea and assured that his Embassy would provide all possible cooperation to exploit such opportunities.
In his welcome address, Atif Ikram Sheikh, President, Islamabad Chamber of Commerce and Industry said that Korea has placed some stringent Sanitary and Phyto Sanitary (SPS) measures due to which many Pakistani agricultural products were facing difficulties in getting better access to Korean market and stressed that such measures should be revised.
He said being an advanced economy, Korea should help Pakistan in modernizing its economy through technology transfer, knowledge sharing, capacity building, enhanced trade, investment and joint ventures. He said China-Pakistan Economic Corridor would create plenty of opportunities for investment and joint ventures and Pakistan and time was ripe for Korean investors to take more interest in Pakistan for investment.
He said both countries should encourage frequent exchange of trade delegations and organize single country exhibitions on reciprocal basis in order to explore new avenues of mutual cooperation.
He said ICCI would work closely with Embassy of Korea to improve bilateral and economic relations between the two countries. =DNA
==============