Kashmir Solidarity Day observed at Pakistan Embassy Moscow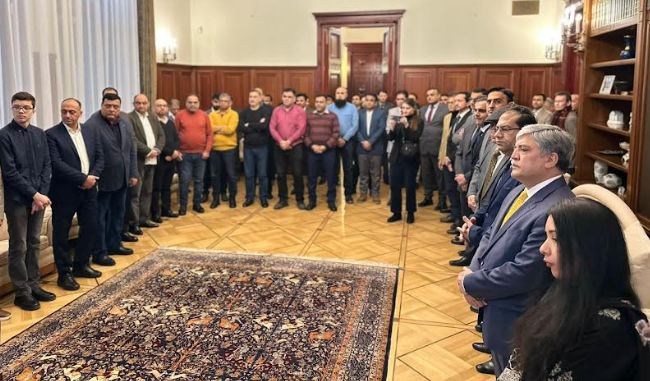 DNA
Moscow: Feb 5: On the occasion of Kashmir Solidarity Day on 5th February, a solemn ceremony was held at the Embassy of Pakistan, Moscow.
Pakistan Ambassador to the Russian Federations HE Mr. Shafqat Ali Khan, officers and officials of diplomatic corps and representatives of Pakistani community participated in the ceremony.
The Ceremony began with recitation from Holy Quran, followed by National Anthem.
A special documentary on Kashmir was displayed for the audience covering the Indian atrocities committed against the Kashmiri population. The documentary also highlighted the Indian designs and its historical background. Messages of the President of Pakistan and Prime Minister on Kashmir Solidarity Day were read out by Third Secretaries Mr. Muhammad Tayyab and Mr. Jetha Nand respectively.
A photo exhibition depicting atrocities by the Indian occupying forces in the IIOJK was also arranged for the participants.
The event ended with resolve from the participants to continue support to Kashmiri brethren in their struggle against Indian occupation.