Kashmir is Pakistan's jugular vein, says President Mamnoon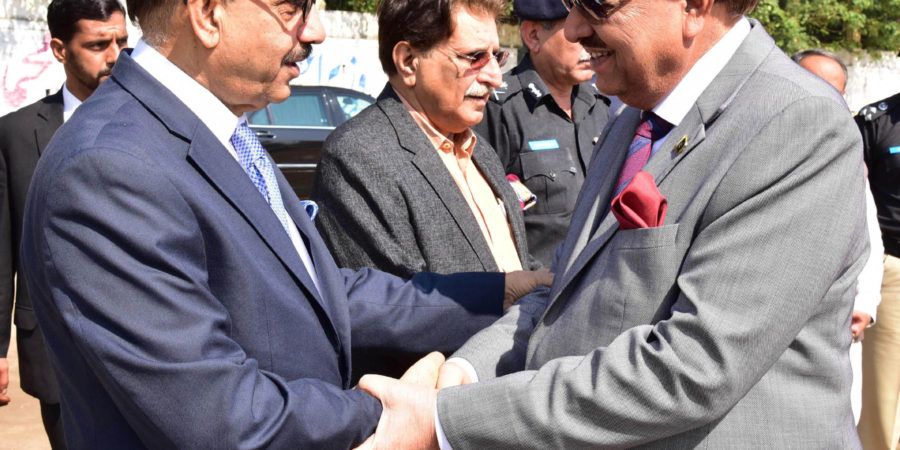 MUZAFFARABAD OCT 16(DNA) – President Mamnoon Hussain has said that Kashmir is Pakistan's jugular vein and it would continue to proactively extend moral, diplomatic and political support to Kashmiris for attainment of their right of self-determination.
The President said this while talking to a delegation of All Parties Hurriyat Conference (APHC) Azad Jammu & Kashmir chapter which called on him at Muzaffarabad on Sunday. President AJ&K Sardar Muhammad Masood Khan and Prime Minister Raja Farooq Haider Khan were also present.
President Mamnoon Hussain called upon the international community and United Nations to exert pressure on India to implement UN resolutions for holding plebiscite in Kashmir and immediate cessation of human rights violations in Indian Occupied Kashmir being perpetrated upon innocent Kashmiris including children and women.
The President lamented the failure of United Nations in resolving the 69 years old dispute and urged the world body to play its role for resolution of Kashmir issue for durable and lasting peace in the region. The President said that Pakistan desires peaceful resolution of Kashmir issue through dialogue.
The President urged the Muslim countries to unite by ending their differences and collectively exert pressure on the international community to resolve the longstanding disputes of Kashmir and Palestine.
President Mamnoon Hussain has appreciated the efforts of parliamentary delegation constituted by the Prime Minister and said that they have been successful in projecting the Kashmir issue in its true perspective and in highlighting the Indian atrocities being perpetrated on hapless Kashmiris.
The President said that he will ask the Foreign Ministry to regularly brief the foreign diplomats about the plight of Kashmiris and the urgency for a just resolution of the Kashmir issue.
He further asked the Ministry of Foreign Affairs to impress upon the international humanitarian organizations for the need to urgently provide food and medicine to oppressed Kashmiris who are suffering Indian reign of terror and more than three month of curfew which has created shortage of essential commodities.
He stated that the Kashmiri diaspora living abroad need to be engaged to play their role in highlighting the Kashmir issue and exposing Indian barbarism to garner international support.
The members of APHC delegation lauded President Mamnoon Hussain's address to Joint Sitting of Kashmir Council and Legislative Assembly and said that it reflected the sentiments and aspirations of the people of Kashmir and won their hearts.
They said that the President's three day visit to Muzaffarabad will infuse more vigor into the ongoing freedom struggle and raise the spirits and morale of Kashmiris. The APHC delegation thanked the people and the government of Pakistan for their continued and unequivocal support for the attainment of the right of self-determination by the people of Kashmir.DNA
===