Karachi man, volunteers fix manholes after Sindh govt fails to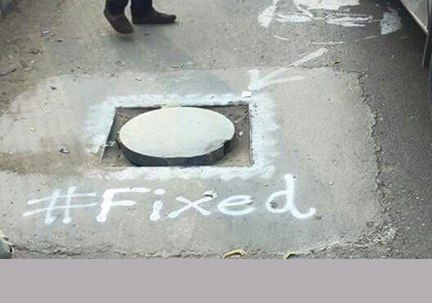 KARACHI: Alamgir Khan, whose Fix it campaign has taken young Karachiites by storm, has taken it upon himself to "fix" the appearance of city roads because the provincial government has failed to do so.
On Friday, over 100 citizens and civil society activists joined Alamgir, who has been anointed a local hero by many on social media, to seal gaps on the bustling University Road.
Alamgir told media that the step was taken after the local administration failed to seal manholes despite two days having passed — the deadline Sindh Chief Minister Syed Qaim Ali Shah had given local authorities to cover all gutters in Karachi or "face strict action", in the wake of media reports criticising the state of roads.
It was then that Alamgir decided to take his campaign to the next level. His team arranged manhole covers at a cost of a meagre Rs13,000 and the group sealed gaps on University Road on Friday afternoon.
"At a cost of just Rs13,000 and in only six hours, we managed to seal 42 manholes on University Road," he said. The participants then painted the word "fixed" next to the gaps they had sealed.
Alamgir, who believes "nothing in the world is done without reward or retribution", says the chief minister ought to penalise the black sheep in his government who are failing to do their jobs.
"This is an exam for the chief minister now…of the power of his writ," Alamgir says. "Is his command so weak that the Karachi Metropolitan Corporation administrator has managed to ignore it?"
Alamgir reiterates that his struggle is one of "Karachi's common man who must fulfill his responsibility as a citizen even if the government fails to do its job."
"The people who joined me in sealing manholes on Friday were not labour, they were volunteers and ordinary people," he says.
Alamgir and his fellow activists will resume the activity on Saturday on University Road, where gaps remain to be covered, he told media.
As part of the Fix itcampaign, a group of Karachiites led by Alamgir this past week spray-painted the portrait of Sindh CM on major roads of the metropolis, which invoke the ire of thousands everyday due to their derelict condition.
With the chief minister's face drawn next to gaping potholes, ditches and heaps of piles on the side of Karachi's much-used University Road, the aim of the project was to attract the authorities' attention towards the issues that affect Karachiites, Alamgir earlier told media.
The chief minister then took notice, lambasting his administration at the state of roads in several Karachi areas and wondering "Is sealing gutters also my job?"
Alamgir earlier complained that the authorities instead of paying heed to the problem being highlighted were harassing him, his family and his fellow volunteers to "keep them silent".