Kamal says Farooq Sattar should stop telling lies: Farooq Sattar disowns MQM London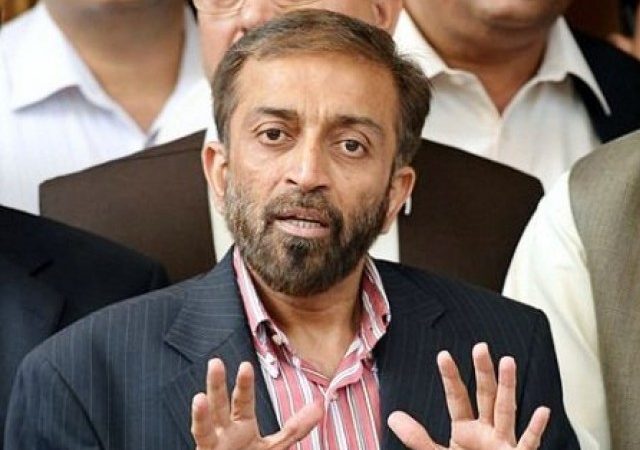 KARACHI, August 27 (DNA): Pak Sarzameen Party (PSP) leader Mustafa Kamal stated on Saturday that he was not glad after seeing the offices of Muttahida Qaumi Movement (MQM) being razed, adding that the people themselves will demolish structures named after MQM chief.
While addressing a press conference, Kamal said that Mohajir community does not consider MQM chief as its leader. He said that the daughters of the community had to appear in courts because of MQM chief further stating that the party chief was responsible for tarnishing the community s image.
Mustafa Kamal enquired from the government that what measures were made against MQM chief after he made his anti-Pakistan speech. He added that the United Kingdom (UK) shall never take action against MQM chief as the Pakistani government itself depended on UK.
PSP leader stated that there was no difference between MQM and the party chief. Referring to MQM leader Farooq Sattar, Kamal said that Sattar should tell the truth to the nation. "Have you (Sattar) not seen the files? Don't you know that funding (of MQM) is being done by RAW?" Kamal enquired from Sattar during his media address. He stated that if Sattar cannot tell the truth then he should stop telling lies as well and have mercy on the Mohajir community.
Kamal said that MQM chief was able to deceive the community by exploiting its deprivations and further questioned that were any problems solved by making MQM chief as a leader. He added that not a single university has been founded in the urban areas since the past 30 years. He said that it was important to heal the wounds of the community along with flattening MQM's offices.
He requested the federal and provincial governments to provide the youth of Mohajir community with dignified employments and said that Prime Minister (PM) Nawaz Sharif and Sindh Chief Minister (CM) Murad Ali Shah should announce special packages in order to address the deprivations of the community. "Issues will not be solved by arresting MQM's female workers," he said.
PSP leader further said that Karachi's garbage issues were still not addressed despite the orders of Sindh CM on the matter. He stated that although PSP did not have mandate but it was not possible for the party to silently observe all the developments being made. DNA
MQM disowned Altaf Hussain, London Secretariat: Farooq Sattar
KARACHI, August 27 (DNA): Muttahida Qaumi Movement (MQM) leader Farooq Sattar while addressing a press conference on Saturday stated that MQM was no longer associated with party chief, further demanding that the party s political isolation should come to an end.
Farooq Sattar that the party was not demanding political ownership as compensation but it was MQM s right to do so. He stated that MQM s policies and decisions were no longer linked with London. He stated that the party s seriousness should not be doubted anymore.
MQM leader said that the mandate which the party enjoys must be admitted by heart, further adding that certain individuals intend to become political rivals of the party. He said that MQM has taken the choice to make its own decision in its hands now.
"We felt our responsibility without any consultation and came to conclusion that time had come to draw a line," he said.
Sattar said that attempts were being made to introduce 4-5 new versions of MQM. He stated that party headquarters, Nine-zero, were sealed illegaly since the past few days. He said that the party s offices that were razed were legal as documents regarding their legality were also present.
"20 to 40 offices of the party have been demolised till now," Farooq said, further demanding that the party s headquarters be re-opened at once. He stated that Karachi Mayor Wasim Akhtar himself will demolish MQM s offices once he takes oath of his post.
"We have fully disowned and denounced the August 22 speech," he said, adding that no MQM representative would attend any talk show if the process of victimization did not stop.
"Nine Zero, which is headquarter of MQM Pakistan, remains sealed illegally and unconstitutionally," added Sattar. DNA