Kabul residents hold protests in support of Palestine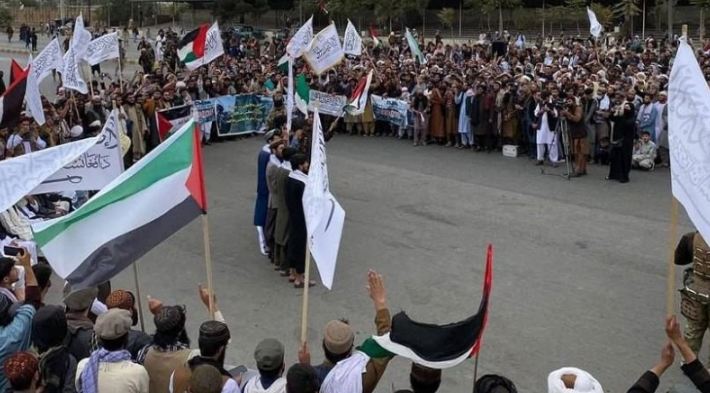 KABUL: Thousands of Kabul residents and mujahideen of the Islamic Emirate KABUL: A total of 26 Afghan refugees, who had been prisoned by Pakistani officials, have recently been released from the Sindh jail of that country, the Ministry of Refugees and Repatriation said in a statement the other day.
"As a result of the efforts of the Embassy of Afghanistan in Islamabad and the Consulate General of the country in Afghanistan launched protest in support of Palestinian Muslims and against the invading Israelis.
They [people] gathered near Eidgah Great Mosque in Kabul and chanted anti-Israeli slogans and condemned Israel's attacks on Gaza's innocent civilians.
The protesters strongly condemned the Israeli brutality, restrictions and oppression of Muslims in Gaza and demanded to stop it as soon as possible.
The protester leaders, in a resolution, blamed the continued atrocities against Palestinian Muslims on countries that back Israel, adding that all Islamic countries should immediately come to the defense of Palestine and Al-Aqsa, they also termed depriving Muslims in Gaza of fuel, food, and water a heinous crime against humanity, which they strongly deplore.
For seven days, Palestinian forces have captured many parts under the control of the Israeli forces one after the other, and intense clashes are still ongoing between the forces of the two sides.