Jazz up your iftar table with sheer paira sharbat, a non-carbonated drink alternative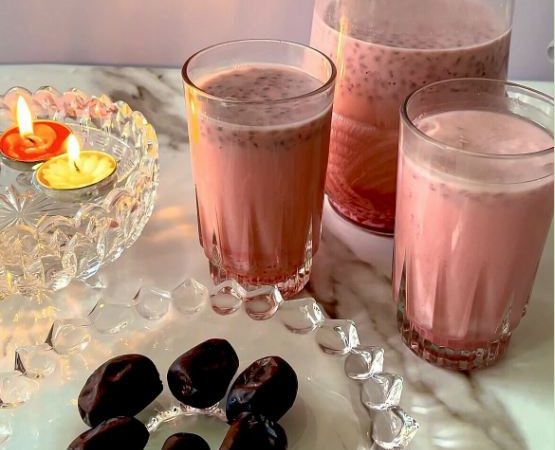 Ramazan mubarak! Finally, the month we wait for the whole year is upon us and attached with this month are so many special things. Having iftar with family and friends is such a fulfilling and joyous occasion, and such a special time needs something out of the ordinary. So to brighten up your iftar table and quench your thirst, here is a luscious milky drink that beats any popular juice or carbonated drink hands down. This is the recipe of sheer paira sharbat, a name I have coined for it, just like the recipe that I invented after some experimentation. I know there are similar drinks that are a favourite in many families, such as almond milk that the elders in my family like to break their fasts with, especially in summers. I wanted to experiment with my personal favourite ingredients and give a twist to it, you can choose what's your favourite flavour and add those ingredients. I used the sweetmeat pan paira (you can use any barfi or paira flavour of your choice), which had just a touch of dry fruit pieces, red sherbet, red jelly and basil seeds (
tukh malanga
). Almond or pistachio pieces or paste can be added for a richer flavour, but I felt it would have been a bit overpowering, so I didn't.
Sheer paira sharbat is easy to make, sumptuous and luxurious in taste, and it brings a touch of tradition back to the iftar spread.
Ingredients:
• 1 litre milk • 1 packet jelly • 250g pan paira or barfi • 1/2 cup or to taste red sherbet • 2 tablespoons 
tukh malanga
 or basil seeds
Method:
Soak the basil seeds in a cup of water for at least 15 minutes. Make the jelly according to the instructions on the packet. Let the jelly set well for about half an hour. Jelly chunks give a nice look and texture to the drink but since mine didn't set so well, they almost dissolved. But that only added to the flavour. You can use jelly of different colours and flavours too — your drink, your call! Crush the paira into pieces, put in a mixing jar or the jug you will make the drink in. Mix with an electric hand blender, like I used, or blend in a blender. You can also use a hand beater or mixer, just do it well enough for the paira to combine fully with the milk. Add this in the remaining milk, then add 
tukh malanga,
 red sherbet and jelly pieces. Stir gently and refrigerate. To serve, stir well and pour into glasses at iftar time. There is no need for addition of sugar since all the things being added to the milk are already very sweet. It can be made a few hours in advance — it even stays fine refrigerated for a day but being milk-based, I would not advice it for overnight consumption. This measurement is for five large servings.
Suggested variation:
Pista burfi, banana flavour jelly and ice cream syrup can be substituted in for pan paira, strawberry jelly and red sherbet. The writer's Instagram handle is 
@the_experimentalcook