Japan is a long time partner in economic development: Ishaq Dar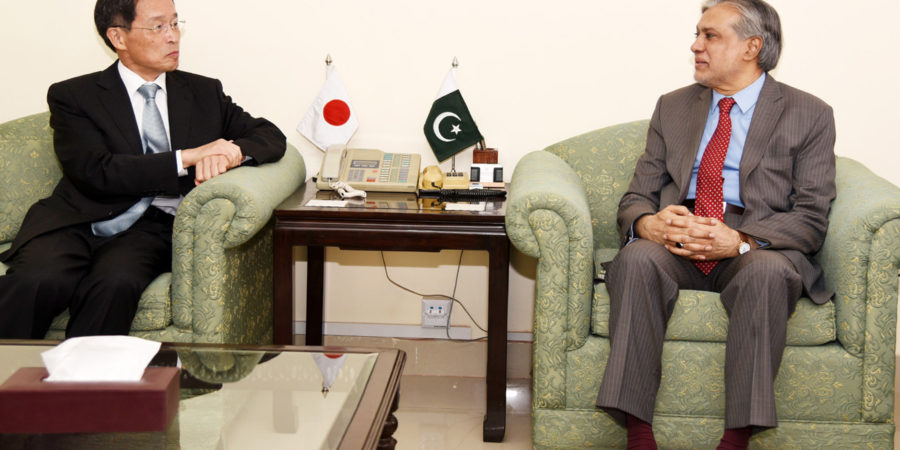 ISLAMABAD, AUG 18 (DNA) – Finance Minister, Senator Mohammad Ishaq Dar Friday said that Japan was a long time partner of Pakistan in its quest for economic development.
Finance minister was talking to Japanese Ambassador, Takashi Kurai who called on him here.
During the meeting, both the dignitaries discussed Pak-Japan bilateral relations and overall economic cooperation between the two countries.
On the occasion, the Japanese Ambassador said that his country was always ready to contribute to socio-economic uplift in Pakistan. Japanese Ambassador, Finance Minister Dar discussed economic and trade cooperation.
Ambassador Korai apprised the Finance Minister of the new investments being made by Japanese companies in Pakistan.
He referred to joint venture for milk powder production facility and fresh investment for expansion in automotive sector as examples of continued interest of Japenese investors in the business opportunities in Pakistan.
He said that a number of companies were currently exploring opportunities in various sectors.
The Finance Minister on the occasion recalled his meeting with the Japanese Deputy Prime Minister on the sidelines of the Asian Development Bank's annual meeting in Yokohama and said that it opened new avenues of cooperation in the financial sector.
Ambassador Kurai informed that a delegation of Japan Bank for International Cooperation would visit Pakistan in September to take the discussions further and work out details for financial sector collaboration.
Ambassador Korai also recounted meeting of Pakistan Japan Business Forum (PJBF) in November 2015 and setting up of Joint Trade Committee which was working for promoting trade between the two countries.