It's not politics if one gives priority to personal interests: Kh Asif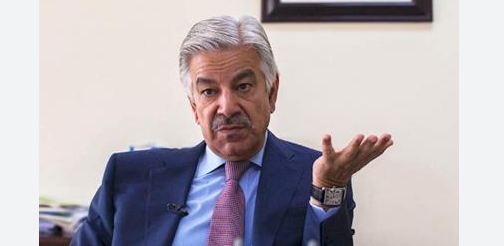 SIALKOT, Feb 25 (DNA): Federal Minister for Defence Khawaja Muhammad Asif has said that in politics when personal interest is given priority over national interest, then politics is no longer politics, it becomes a war of interests.
He stated this while addressing the convocation of Standard College for Girls here as the  special guest, held at the Heritage Club, Sialkot.
The minister said that Sialkot city had given him respect and recognition. "Wherever I go, people know me as a man from Sialkot," he said in a lighter vein.
The federal minister said that during the last 33 years, he and his fellows served the city, and people could see the signs of services of the Pakistan Muslim League-Nawaz (PML-N) it rendered here.
Kh Asif said that during the four-year rule of Pakistan Tehreek-e-Insaf (PTI), resources of the province had been looted mercilessly. He said that the biggest project that Nawaz Sharif had given to the city was Sialkot-Lahore Motorway. Kh Asif said that earlier it used to take three-and-a-half hours to reach Lahore from Sialkot, but now one could cover this distance in one-and-a-half hours. The same motorway would now connect GT Road at Kharian and the journey time would shorten further, he added.
The minister said that the city had a women university, called Government College for Women University, so that higher education was available in the city for female students. "I am proud that the daughters of this city are attending this convocation in large numbers today. They have completed their education and they are starting a new journey towards their new destination," Kh Asif added.
The federal minister said that this year is the election year. "Even in a short period of time, we will try to improve the quality of life for the residents of Sialkot," he promised. He said that all problems that the country was facing at the moment would be solved gradually.
Director and Principal of Standard College for Girls Sialkot Mohsin Bilal thanked all the participants including the federal minister, and said that women play an important role in the national development.
A total of 120 female students were awarded certificates at the convocation.