Ismatullo Nasredin, Ambassador of Tajikistan awarded with Austrian decoration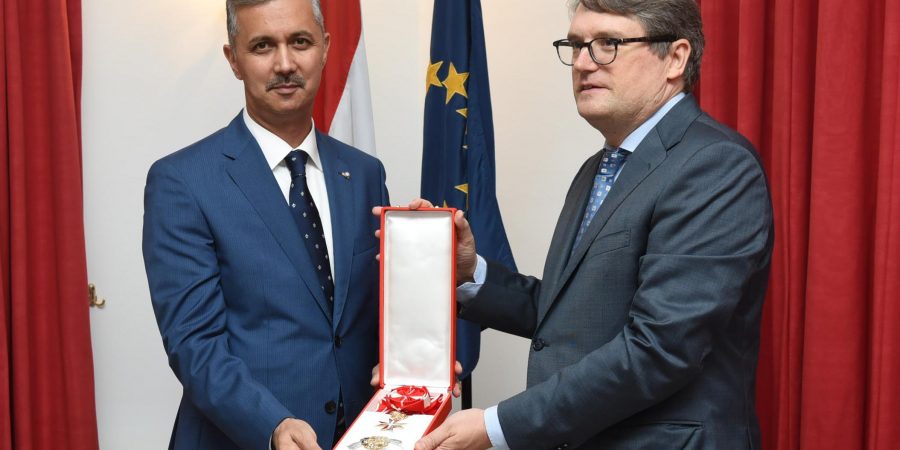 ISLAMABAD (DNA) -Ambassador of the Republic of Republic of Tajikistan his Excellency Mr. Ismatullo Nasredin for his services in strengthening and deepening the bilateral relations between Austria and Tajikistan, was awarded by the Federal President of Republic of Austria with state award Grand Decoration of Honor in Gold with Sash. The event took place at the Austrian Residence in Islamabad on 10th October 2019.
The Ambassadors of Russia, Turkey, Italy, Hungary, Uzbekistan, Turkmenistan, Azerbaijan and Kazakhstan attended the award presentation ceremony.
        On the occasion of the award presentation ceremony, the Ambassador of the Republic of Austria shared information about the services of Mr Ismatullo Nasredin in strengthening and deepening the bilateral relations during his tenure as ambassador to the republic of Austria from year 2012 to 2017. The Austrian Ambassador his Excellency Mr. Nicolaus Keller said that due to the efforts of Mr Ismatullo Naserdin the bilateral relations between the Republic of Austria and Tajikistan achieved many milestones. Under his supervision the first official visit of the Federal President of Austria H.E. Dr. Heinz Fisher to Tajikistan in March 2013 was organized.
         The Austrian Ambassador said Mr Ismatullo Naserdin also facilitated the contacts between the business community of both countries, due to which number of bilateral trade agreements between economic and chamber of commerce sectors of both countries were signed.
         The Austrian Ambassador further said that His Excellency Mr Ismatullo Nasredin also played a role in the making connections between the state institutions of Austria and Tajikistan. Also, besides that while he was in Vienna, he was also nonresident Ambassador to Hungary, Italy and Slovakia. In this capacity his Excellency Mr. Ismatullo Nasredin diligently worked for strengthening the bilateral cooperation among Eastern European countries and Tajikistan. He also initiated purchasing a property for Embassy of Tajikistan in Austria and played an active role in arranging the training of the young diplomats from Central Asia at the Diplomatic Academy at Vienna.
            In his turn, Ambassador of Tajikistan expressed his appreciation to the Government of Austria for this award and stressed that he considers this award not to his personal merit, but as high estimation the activity of Tajikistan diplomatic service, which implementing foreign policy of his country, determined by the Leader of the Nation, President of the Republic of Tajikistan H.E. Emomali Rahmon.