Islamabad, Faisalabad, Peshawar wins matches in Quaid-e-Azam Cup Inter-Divisional Basketball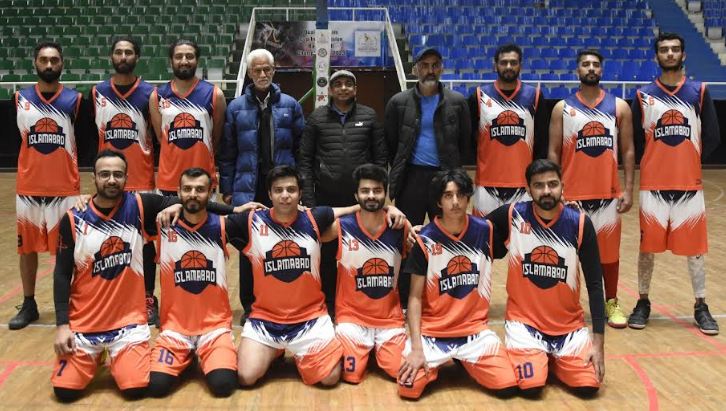 AFZAL JAVED
ISLAMABAD: Islamabad Reds, Faisalabad and Peshawar won their matches in the Quaid-e-Azam Cup Inter-Divisional Basketball Tournament started here at Pakistan Sports Complex Islamabad.
According to Federal Basketball Association Secretary Ouj E Zahoor, Islamabad Red, Gujranwala, Peshawar, Hazara, Islamabad Blues and Faisalabad Division are competing the tournament based on pool rounds matches organised by the Federal Basketball Association (FBBA).
In the first match Islamabad Reds defeated the Gujranwala division by 77 points against 55 points. Mohammad Yasir scored 20 and Atiq Khan scored 14 points from Islamabad Reds, while Mohammad Ali scored 12 points from Gujranwala division.
In the second match, Faisalabad Division defeated Hazara Division by 62-61 points as Faisalabad team scored two important points in the last minute after a nerve-wracking match. During the match, both teams played brilliantly as Mohammad Rizwan scored 16 points and Ali Hassan scored 12 points from Faisalabad, while Mohammad Nawaz scored 24 points and Haris Khan scored 14 points for Hazara division.
In the third match, Peshawar Division defeated Gujranwala by 90-56 points, thanks to 30 points from Naeemullah and 22 points from Bilal Khan for the winning side.
In the fourth match, after a tough competition Islamabad Blues defeated Hazara Division by 60-56 points. Noman Khan 22, Shumail Shagri 14 points played a key role in the success of Islamabad Blues while Yasir Ghafoor, Khurram Aftab and Mohammad Mudassar supervised the matches.
On the other hand Pakistan Army, Pakistan Air Force (PAF), Pakistan Ordnance Factories (POF) and Wapda qualified for the semi-final round in the Inter-Departmental National Basketball Championship.
Senior Vice President of Pakistan Basketball Federation (PBBF) Imtiaz Rafi Butt, President Federal Basketball Association (FBBA) Ejaz Butt, PBBF Associate Secretary Ouj E Zahoor, Former Pakistan Basketball Team coach Malik M Riaz, Pakistan Sports Board Deputy Director Generals  Mansoor Ahmed Khan, Saeed Akhtar, Muhammad Azam Dar  and sizeable spectators were witness the matches.
In the first match of the day three, WAPDA faced an upset defeat against PAF as WAPDA had the lead of 15 points when last quarter of the match started but failed to sustain the lead in the last quarter Umair Jan along with Ahmad Jan and Muhammad Mehtab whose scored who scored 25, 10, 10 points respectively played a vital role of PAF victory which concluded with decisive two points by Prem Shahzad in the last few second of the match for the winning team by 75 points against 73.
In the second match, Pakistan Army continued its winning streak and defeated POF by 104-30 points. Mohammad Shahid scored 17 points and Mohammad Shahbaz scored 15 points for Army side.
The first semi-final of the inter-departmental championship will be played on Monday between defending champion Pakistan Army and WAPDA while the second semi-final will be played between Pakistan Air Force and Pakistan Ordnance Factories (POF).