IS suicide attack in Yemen kills 45 government fighters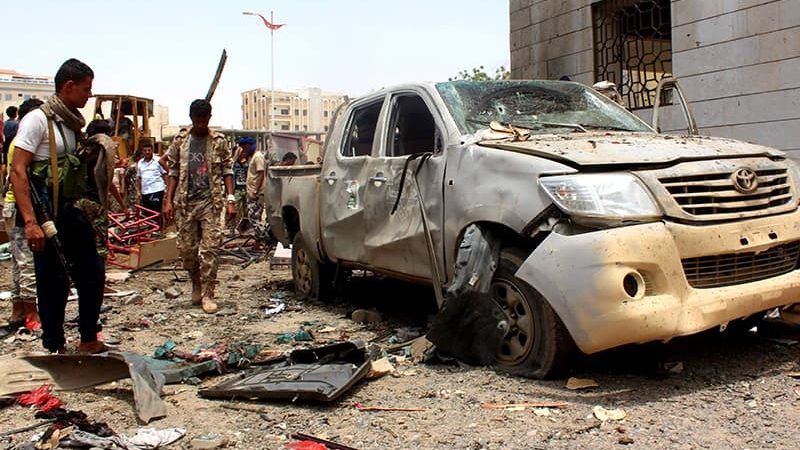 SANAA: A suicide car bombing claimed by the militant Islamic State (IS) group in Yemen's southern city of Aden on Monday killed at least 45 pro-government recruits who had been preparing to travel to Saudi Arabia to fight Houthi rebels in Yemen's north, officials said.
The men were at a staging area near two schools and a mosque, registering to join the mission when a pickup truck suddenly accelerated through the building's gate as a food delivery arrived, exploding amid the crowd, witnesses said.
"Bodies and body parts are scattered all over the place," said Mohammed Osman, a neighbour who rushed to the scene. "It was a massacre," he said.
Over 60 wounded were being taken to three area hospitals, Yemeni security officials said, speaking on condition of anonymity because they were not authorised to speak to the media.
The men had been signing up to join a unit the Saudis hope will ultimately be made up of 5,000 fighters. After some training, the new force will deploy to the Saudi cities of Najran and Jizan, near the border, the officials said.
Aid group Doctors Without Borders reported on social media that their hospital in Aden had received 45 dead, while the Yemeni officials earlier put the figure at 25 but said it was likely to rise. The IS-run Aamaq news agency said the attack was carried out "by a fighter from the Islamic State who targeted a recruitment centre."
Ahmed al-Fatih, who had been working at the centre, said security at the site was lax. "There was no consideration of security," he said. "So it was easy for Al Qaeda or Daesh to pull off such an act," he added, using an Arabic acronym to refer to IS.
Yemen is embroiled in a civil war pitting the internationally recognised government and a Saudi-led coalition against the Houthi rebels, who are allied with army units loyal to a former president. The fighting has allowed Al Qaeda and an IS affiliate to expand their reach, particularly in the south.
The UN and rights groups estimate at least 9,000 people have been killed since fighting escalated in March 2015 with the start of Saudi-led airstrikes targeting the Houthis and their allies. Some 3 million people have been displaced inside the country, the Arab world's poorest.
UN-mediated peace talks in Kuwait were suspended earlier this month with no signs of progress.
The Houthis and forces allied to former President Ali Abdullah Saleh seized Yemen's capital, Sanaa, in September 2014, forcing the internationally recognised government to flee the country. The Saudi-led campaign against the Houthis has pushed them out of southern Yemen, but has failed to dislodge them from Sanaa and the rest of the north.