Iran officially becomes member of SCO family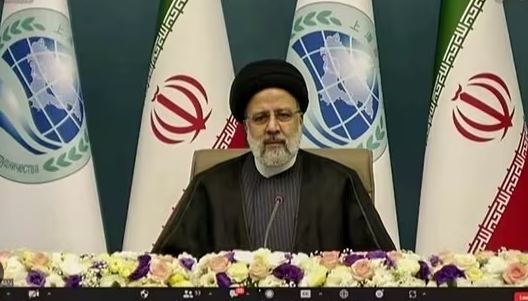 BEIJING, July 4 (APP): Iran on Tuesday officially became a member state of the Shanghai Cooperation Organization (SCO).
The flag of Iran was raised at the SCO Secretariat during an impressive ceremony attended by Secretary General SCO, Zhang Ming, Iranian Ambassador Mohsen Bakhtiar and the envoys and senior officials of the SCO member states.
Addressing participants of the ceremony, Secretary General of SCO, Zhang Ming expressed confidence that Iran's full membership will help enhance mutual trust and solidarity among the member states, safeguard regional security and stability and create a new possibility of expanding and deepening cooperation in the economy and trade, transportation, investment, tourism, energy and other areas of common interest of the SCO.
Over the years, the Shanghai Spirit has united us all and become our common guidance on the path ahead, he added.
He believed that with the joint efforts of member states, the SCO member states will continue to carry forward the Shanghai spirit, turn challenges into opportunities, and make greater contributions to international and regional peace, security, development and prosperity.
The Secretary-General, on behalf of the SCO Secretariat, extended warm congratulations to the Iranian leadership and people.
In his speech, Iranian Ambassador to China, Mohsen Bakhtiar said that his country as a full member of the SCO will work together with the other member states for regional peace and security.
He said that Iran will promote closer economic integration with SCO countries and forge cooperation with them in various sectors such as agriculture, manufacturing, technology and contribute to sustainable growth.
The decision to admit Iran as a full-time member of the bloc was announced during the 21st SCO leaders summit in Dushanbe, Tajikistan on September 17, 2021.
Iran signed a memorandum of commitment to obtain the status of an SCO member state at the previous SCO summit in Samarkand in September 2022.
Prior to its membership in Iran, the SCO was an eight-member transcontinental political, economic, and security organization.
The organization was founded by China, Russia, Uzbekistan, Kazakhstan, Kyrgyzstan, and Tajikistan at a summit held in Shanghai in 2001.