Interior Minister's press conference gets wide coverage in int'l media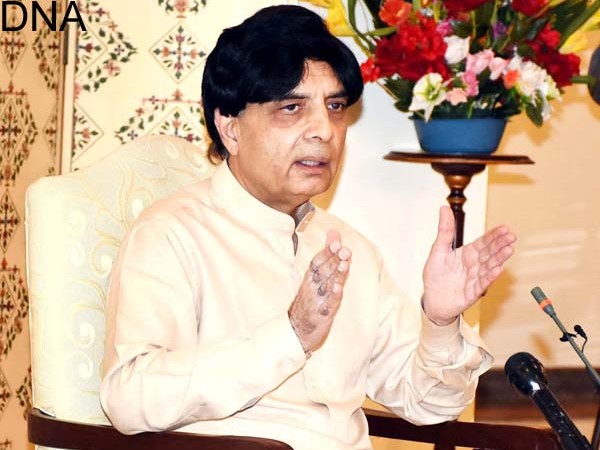 ISLAMABAD, 26 MAY (DNA) – The Interior Minister Chaudhry Nisar Ali Khan's press conference on the US drone strike in Balochistan has got wide coverage in the international media.
The Washington Post in its story titled "Pakistan: DNA tests to confirm Taliban leaders death," quoted the interior Minister Nisar Ali Khan condemning the drone strike, "calling it a violation of Pakistan's sovereignty and international laws."
Washington post added "that Washington officially notified Pakistan seven hours after carrying out the strike," saying they had targeted Mansour inside Pakistan and that "he was no more alive."
"The interior minister Khan also rejected the notion that Mansour was a threat to peace in Afghanistan, insisting that Mansour had backed the first round of face-to-face talks between the Taliban and Kabul, which was hosted by Pakistan in July 2015," said the US based newspaper.
Washington Post said that the interior minister remarked: "That process was sabotaged when Kabul decided to reveal that Taliban leader Mullah Mohammad Omar had in fact been dead for nearly two years."
New York Times in its story captioned "Pakistan Says U.S. Justification for Drone Strike 'Against International Law" quoted the minister asserting his stance saying: "For the U.S. government to say that whoever is a threat to them will be targeted wherever they are, that is against international law."
New York Times said that "The Pentagon in its statement has said separately that Mansour was engaged in plotting that posed "specific, imminent threats" to U.S. and coalition troops in Afghanistan."
The Guardian UK also quoted the Interior Minister Chaudhry Nisar Ali Khan where he called the strike "totally illegal, not acceptable and against the sovereignty and integrity of the country."
The paper noted that Chaudhry Nisar Ali Khan also said the killing of Mullah Akhtar Mansoor would scupper any chances of peace talks and could embolden other states to pursue their enemies in other countries.
"You cannot expect them to come to talks after killing their leader; this killing has put Pakistan in a very difficult situation," quoted the guardian.
The Guardian said that "The interior minister's strident remarks stood in contrast to the relatively muted statements made by the government in the immediate aftermath of Mansoor's death on Saturday."
The UK based newspaper maintained that interior minister has directed an investigation into how Mansoor had secured a Pakistani identity card and passport, which he had used the morning he was killed to enter the country. DNA