Interactive session on "Pakistan-Asean Relations: Road to growth and prosperity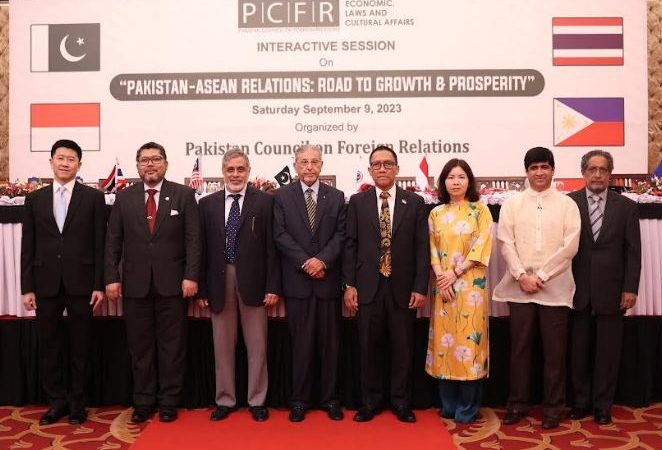 ISLAMABAD, SEPT 10 /DNA/ – Pakistan Council on Foreign Relations (PCFR) hosted an interactive session on "Pakistan-ASEAN Relations: Road to Growth & Prosperity" in a local hotel in Karachi. Karachi based consul generals of ASEAN nations including Dr. June Kuncoro Hadiningrat, Consul General of Indonesia, Mr. Herman Hardynata Bin Ahmad, Consul General of Malaysia, Mr. Narut Soontarodom, Consul General of Thailand, Ms. Nguyen Thi Diep Ha, Head of Vietnam Trade Mission, and Dr. Imran Yousuf, Honorary Consul General of Philippines addressed the session.
Mr Zubair Tufail Co-Chief Patron of PCFR welcomed the honorable Consul Generals and all the participants. Mr. Tufail said that nowadays ASEAN is one of the fast-growing platforms founded on the principles of cooperation, amity, and non-interference. He further said that Pakistan has longstanding cooperation with this bloc driven by a number of agreements but the mutually beneficial economic cooperation is yet to achieve the desired results. He recommended that there is a need for an immediate and focused approach to further strengthen the relations between Pakistan and ASEAN.
Dr. June Consul General of Indonesia highlighted the role of ASEAN as a bloc of rapidly and consistently growing economies. He highlighted that ASEAN's current growth rate which is exceeding the global average offers opportunities for growth and prosperity for all the countries specially for Pakistan in the fields of IT, agriculture, transport, and communication.
Mr Herman Consul General of Malaysia expressed his value for Pakistan-ASEAN cooperation on multilateral grounds and the bilateral ties between Malaysia and Pakistan. He particularly appreciated Pakistan's efforts in creating short diplomatic courses for ASEAN diplomats, a scholarship-based technical assistance program, and the digital payments and financial inclusion program.
Mr Narut Consul General of Thailand highlighted that there is a need for active engagement and meaningful cooperation between Pakistan and ASEAN. Mr. Narut highlighted four key areas for mutually beneficial cooperation including political and security cooperation, economic cooperation, people-to-people exchanges, and human resource development via tourism and business interactions. Ms. Nguyen Thi Diep Ha, Head of Vietnam Trade Mission, and Dr. Imran Yousuf Consul General of Philippines also shared their thoughts on the subject and emphasized on the efforts to enhance cooperation between Pakistan and ASEAN across various sectors for mutually beneficial gains. Amb Syed Hasan Habib presented concluding remarks while Mr Ahsan Mukhtar Zubairi presented mementoes to worthy guests.