Intelligence agencies working day and night to defeat enemy designs: PM Nawaz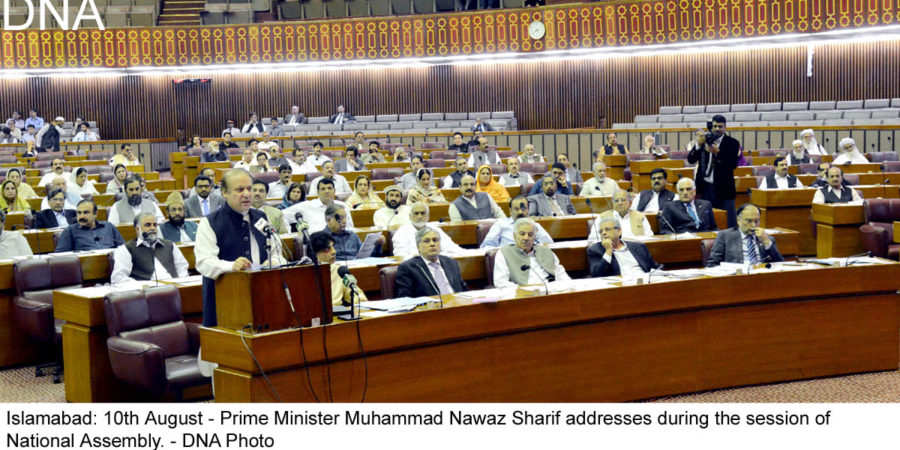 ISLAMABAD: Prime Minister Nawaz Sharif on Wednesday said Pakistan's intelligence agencies are working day and night to defeat designs of the country's enemies.
Addressing the National Assembly two days after the carnage at Quetta Civil Hospital, the premier said Pakistan's military and political leadership are on the same page to eradicate the menace of terrorism.
Nawaz said the mindset behind the Quetta attack was the same one that had targeted Pakistanis in numerous terrorist attacks in the past.
"This incident [Quetta attack] was properly planned," said the PM, adding that "such a mindset does not want peace in the country, especially in Balochistan".
"We will put to rest all these challenges."
The premier went on to say that Operation Zarb-i-Azb is a unanimous national agenda that will be completed at all costs.
'Remarks against intelligence agencies unacceptable'
Shortly after the premier's address, Interior Minister Chaudhry Nisar Ali Khan took to the floor to enlighten the house on some key issues discussed in high-level huddles after the Quetta attack.
Nisar said while most political parties were against the introduction of harsh laws, stricter laws were needed to reign in those "who do not ascribe to any religion or law".
Without naming anyone, the interior minister also voiced his displeasure over Pakhtunkhwa Milli Awami Party (PkMAP) chief Mahmood Khan Achakzai's address in the house a day ago, in which he demanded that the prime minister sack officers from the security and intelligence agencies if they fail to trace out elements involved in the deadly Quetta attack.
The PkMAP chief had termed the Quetta attack an intelligence failure and had demanded to fix the responsibility of the blast in a debate held on the subject in the National Assembly.
Nisar termed the use of "such words and remarks for intelligence agencies and armed forces as condescending".
"Is it not my duty as a Pakistani to stand with our armed forces?" questioned Nisar, adding that giving such a statements at a critical juncture was "unacceptable".
"Instead of criticising Pakistani security agencies, RAW and NDS should be condemned".
Carnage in Quetta
At least 70 people were killed and over 100 injured after a suicide bomber struck the emergency ward of Quetta's Civil Hospital, where scores of people had gathered to mourn the death of Balochistan Bar Association (BBA) president Bilal Anwar Kasi in a gun attack earlier in the day.
Witnesses present at the hospital at the time of the attack recall complete chaos at the site, with bodies lying on the ground amidst pools of blood and debris.
The attack was claimed by Tehreek-i-Taliban Pakistan splinter group Jamaatul Ahrar and the militant Islamic State group, but Balochistan Chief Minster Sanaullah Zehri hinted at the involvement of Indian spy agency RAW.