Indus in high flood in Sindh, posing flooding threat to city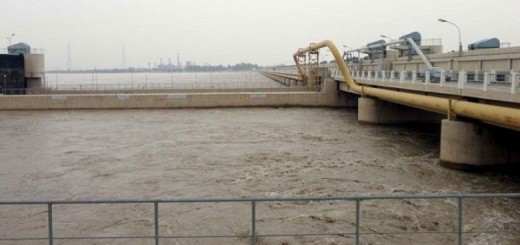 SUKKUR, July 29 (DNA) – Leaving imprints of devastation in Punjab, River Indus with furious flood has entered in Sindh submerging vast tracts of Katcha area along the river.
The river water is oozing out of the protective wall along the river in Sukkur posing flooding threat to the city.
Katcha areas of Kashmore, Ghotki, Sukkur and Larkana have been submerged and the flood water is hitting the protective dykes along the river. Scores of protective dykes have been declared most sensitive to erosion for the expected floods.
Several villages in Katcha area have been inundated and thousands of people moving to safer places without any help from the government agencies, reports said.
Indus is swelling near ancient city of Mohenjo Daro in Larkana district.
Provincial Disaster Management Authority (PDMA) had earlier warned the inhabitants of Katcha areas to move to safer places immediately after the Met department had forecast heavy rains in the province.
Indus has been in high flood at Guddu Barrage with 5,80,000 cusecs water flow.The river eroding Qadirpur-Shainik Bund in Ghotki.
Pakistan Army troops have come to the assistance of the civil administration and started patrolling at sensitive portions of river embankments in the province.
People of Katcha areas at Guddu, Kashmore-Kandhkot, Larkana, Sukkur and Khairpur districts shifting with families to safer places. Heavy rainfall in Hyderabad and Tando Allahyar drowned low-lying areas in these cities.
Indus river has swelled to 5,35,000 cusecs in Larkana district. The water has submerged 15 villages in Katcha areas of the district. The water is rising at Aqil-Agani, Keti Mumtaz and Abad embankments in the district. =DNA
===========