India, Afghanistan reach agreement to establish air corridor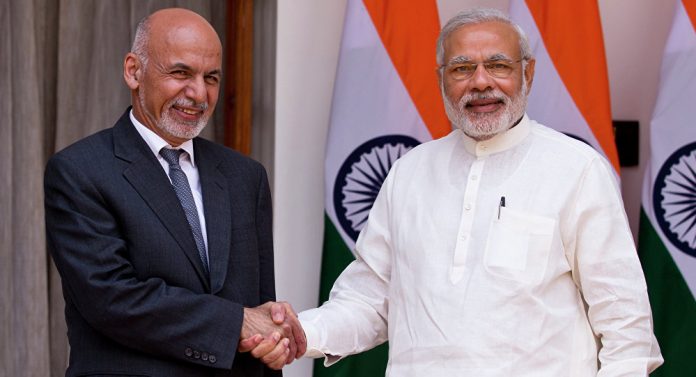 KABUL, 25 SEPT (DNA) – India and Afghanistan have reached an agreement for establishment of an air corridor. "We reached an agreement with India for establishment of an air corridor, to send Afghan goods through the air. President Ashraf Ghani," Pajhwok Afghan News tweeted quoting Afghan President Ashraf Ghani as saying.
Ghani during his two-day visit to India last week urged the Indian businessmen to use the air route for trade in a bid to help free his landlocked country from the constraints of those neighbours, who do not wish his country well.
Earlier this month, he called upon Pakistan to allow Kabul to engage in trade with India through its land routes, a request turned down by Islamabad.
The bilateral trade between India and Afghanistan stood at less than $685 million in 2014-15. However, the trade relations can realize its true potential if the Wagah-Attari route is opened for bilateral trade with Afghanistan.
The Afghanistan Pakistan Transit Trade Agreement (APTTA) has been restrictive in this aspect.
The APTTA is a bilateral trade agreement between Islamabad and Kabul. It has been renegotiated several times.
The treaty was signed in 1950 which gave Afghanistan the right to import duty-free goods through Karachi. The US has maintained that it would encourage Ghani's move of asking Pakistan to include India in the transit trade agreement for stronger trade relations between all countries of the region.
Speaking at the daily press briefing, Deputy Spokesperson of the US State Department, Mark C Toner said, "I would just say, speaking broadly, that we would support stronger trade relations within the region. And we've long said that it's a priority for the United States at least, but it should be a priority for the countries in the region to all work more cooperatively and constructively together.
And a trade agreement would be part of that." When asked as to what was his position on Afghanistan asking India's inclusion in the transit trade agreement it has with Pakistan, Toner replied, "I think we would encourage, as I said, stronger trade relations between all the countries of the region." DNA