Imran promises to end corruption in AJK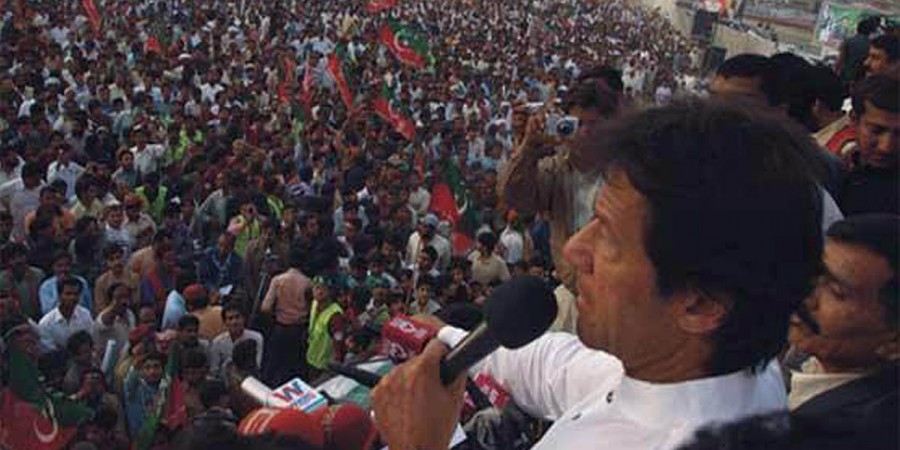 BAGH, 23 MAY (DNA) – Chairman of Pakistan Tehreek-i-Insaf (PTI) Imran Khan on Monday said that he would empower the National Accountability Bureau (NAB) in Azad Jammu and Kashmir (AJK) so much so that no influential person would be able to evade accountability.
Addressing a public rally in Bagh, Azad Kashmir, Imran Khan said "we would show it to everyone how is corruption eradicated from here, lamenting that some of the most corrupt mafias are based in Azad Kashmir. He said that those devastating institutions cannot streamline them."
"Our NAB would not even spare PTI AJK president, Barrister Sultan Mehmood Chaudhry and his relatives," he said. "The real accountability is carried out precisely in accordance with law and it does not let anyone escape," he said.
The PTI chairman said by the grace of Almighty Allah, the country is rich with mineral resources and it has huge reservoirs of gold, oil, gas and coal.
He cited example of United Kingdom (UK) for good governance, where the institutions function according to the law and on merit.
"The poor in UK is provided free legal assistance, no one can be subjected to atrocities there, while the police department is also free of political interference," the skipper told. "As long as a citizen is unemployed in Britain, he is given allowance by the government."
Criticizing the prime minister, Imran said nations do not make progress by construction of arteries and motorways.
Noting that Rs200 billion are being spent on Orange Train project covering a distance of 27 km in Lahore, the PTI chief said was not it better to spend this amount on education of children and health sectors.
He went on to say that Nawaz Sharif has 'build projects to make money' as his motto, questioning, "Why would not a cricketer go for match-fixing, when the prime minister of his country himself is involved in corruption". A corrupt person will never hold another fraud accountable, he contended. DNA