Imran Khan's visit to further intensify Sino-Pak ties: Ambassador Yao Jing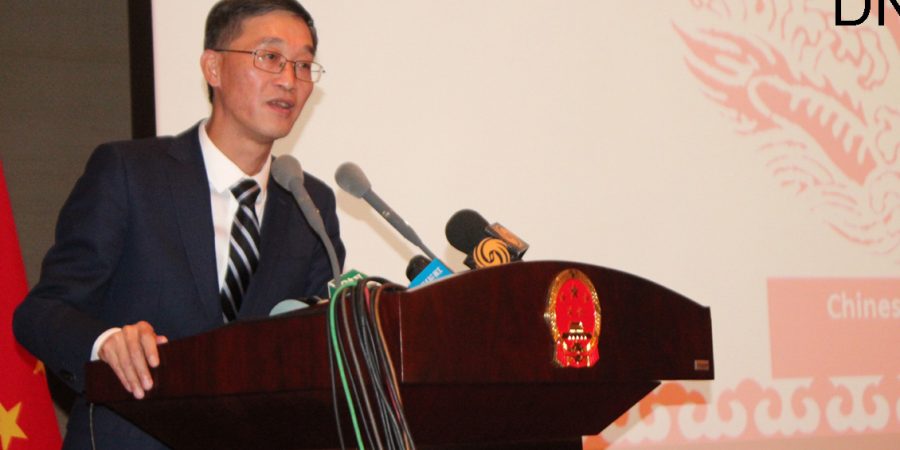 By ANSAR M BHATTI
ISLAMABAD, APR 22 (DNA) – Ambassador of People's Republic of China Yao Jing said on Monday the upcoming visit of Prime Minister Imran Khan to China shall further intensify relations between the two countries.
He said the Pakistani PM will meet with the top Chinese leadership and also leaders of various countries attending the Second Belt and Road Forum to be held in Beijing from April 25 to 27.
The Chinese ambassador expressed these views while addressing a crowded press conference at the Chinese embassy.
Ambassador Yao Jing further said this is Prime Minister Imran Khan's second trip to China in eight months that shows how keen both sides are to further promote and strengthen bilateral relations.
The ambassador told that leaders from about 40 countries shall attend the Forum. The Chinese President Xi will attend the opening ceremony and deliver keynote address.
He said BRF was the top level platform for international cooperation under the framework of the Belt and Road Initiative adding the conference would prove a landmark event.
Dilating upon the theme of the BRF, the ambassador said the theme this time is " Belt and Road Cooperation, Shaping a brighter share future", main purpose of which is to promote the high quality development of Belt and Road cooperation, which is the common aspiration of countries participating in the imitative.
To a question about Chinese relations with the incumbent PTI government, the ambassador dispelled impression that they had any problems with the PTI government adding Imran Khan himself has time and again stressed upon need for enhanced and deeper cooperation between the two countries.
He said PM Imran Khan is said to have asserted on many occasions that Pakistan accorded top priority to CPEC and its relations with China, therefore there is no question of any straining of relations.
The Prime Minister is expected to discuss with the top Chinese leadership prospects of future cooperation in a variety of areas thus giving new dimensions to our bilateral relations.
Ambassador Jing while replying to a question about security of CPEC projects especially in Baluchistan and possible Indian involvement, said CPEC is only five years old project but we have done a lot in these five years.
"The main purpose of the project is betterment of people. There are of course some misunderstandings about the project. We welcome neighbours to join us in this project for the ultimate good of people. We can wait until these neighbours are ready to join this project".
To yet another question about Chinese funding in Gilgit-Baltistan to the tune of five billion dollars, the ambassador while denying any such news, made it clear that the Chinese government only works with the Federal government and not directly with any federating units.
When asked to tell whether the Chinese government was satisfied with the pace of progress on CPEC projects in Pakistan, Ambassador Yao said yes of course the Chinese government was satisfied with the so far development and hoped CPEC will prove beneficial for Pakistan and the region as well.
To a question about stability in Afghanistan, the ambassador said he had served in Kabul for four years therefore can say it candidly that peace in Afghanistan was essential for regional peace.
"China sincerely wants peace in Afghanistan and hopes peace shall ultimately prevail in Afghanistan. Afghanistan belongs to the Afghan people therefore they are to decide about their future however we as neighbours can help them achieve peace".
Giving business model of various Chinese projects in Pakistan, the ambassador said various Chinese companies take loans from Chinese banks; set up an enterprise in Pakistan with the collaboration of Pakistan counterparts and then generate revenue.
He cited example of a power project where a Chinese company got loan from a Chinese bank and established power house in Pakistan with the ultimate aim of selling electricity to national grid of Pakistan. The money received in return of the selling of electricity, is then paid back to Chinese banks.
The ambassador also expressed deep sense of sorrow and grief over the tragic incident in Sri Lanka in which many previous lives were lost. =DNA
===========