Imran Khan says will give a 'surprise' soon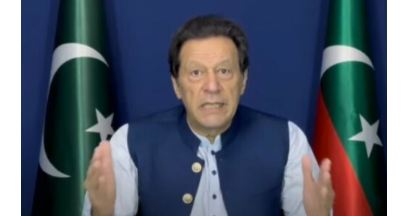 LAHORE, May 27 (DNA): Pakistan Tehreek-e-Insaf (PTI) Chairman Imran Khan
on Saturday appeared optimistic about the future of his party and
political situation, saying that he would soon give 'a surprise'.
Talking to senior journalists and lawyers at his residence in Lahore's
Zaman Park, the former prime minister said that some of PTI lawmakers
have been forced to quit the party while others have been exposed.
As the exodus from the party continues, Imran Khan noted that if he gets
arrested or disqualified, PTI senior vice chairman Shah Mehmood Qureshi
will lead the party.
Responding to a question, the former premier praised his party's leader
Murad Saeed as the 'future leader'. He also clarified that there is no
conflict with the army, stating, "This army is mine."
He appeared optimism about the future of his party, mentioning that
times are about to change and promising a significant surprise in the
future.
Imran Khan also lambasted the incumbent government over 'failed economic
policies' and said that the country's economy was deteriorating
'rapidly'. He emphasised that elections are the only solution to address
the situation.
The PTI chief further said that the youth are the party's most valuable
asset, stating, "The youth are our greatest capital". He added that the
party ticket is their rightful claim.
In response to a question regarding President Dr Arif Alvi, Khan
expressed confidence that he will work in accordance with the
Constitution. He also hoped that PTI will the next general elections
whenever they happen.
It is pertinent to mention here that several PTI lawmakers and members
have parted their ways with the party following the May 9 violence,
wherein military installations including General Headquarters (GHQ) in
Rawalpindi and Corps Commander House Lahore were attacked after the
arrest of party chairman Imran Khan.
Pakistan Tehreek-e-Insaf (PTI) suffered two huge blows as former human
rights minister Shireen Mazari and former federal minister Fawad
Chaudhry quit the party over May 9 violence.