Imran Khan says people will distribute sweets if army takes over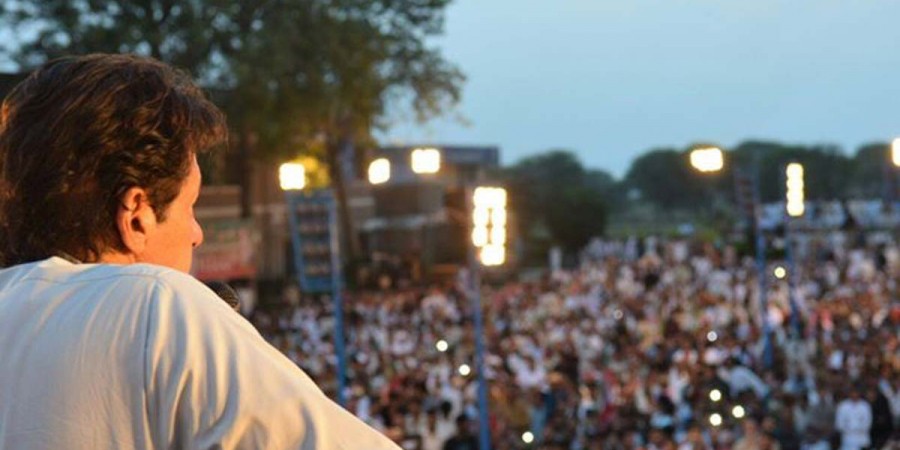 MIRPUR, 17 JULY, (DNA) – Pakistan Tehrik-e-Insaf (PTI) Chairman Imran Khan has said that people support those governments which work for their relief and welfare, unlike the government of Prime Minister Nawaz Sharif.
"Democracy in Pakistan is threatened by Nawaz's monarchy and the people will celebrate and distribute sweets if the army takes over," said Imran while addressing a public rally in  Islamgarh Azad Kashmir.
He said that people of Turkey came in support of their government during an attempted coup in their country, because there was a strong democratic and the Turkish government worked for the benefit of the public despite various flaws in it.
Imran expressed dismay that we have a Prime Minister who has made personal wealth and taken out of the country. "Nawaz Sharif trying to establish a monarchy in the country," he said where he would not be answerable to anyone such the Middle Eastern countries which he admires.
He said that if the Prime Minister was democratic then he would be answerable to the parliament and the people of Pakistan. He said that the people should not fear the military, but rather those who were establishing a dictatorship under the disguise of democracy.
He lashed out at the National Accountability Bureau (NAB) and said that it is deeply regretted that Finance Minister Ishaq Dar has been absolved of money laundering and acquiring illegal assets. He said that Dar had given a 45-page affidavit of his confession which was also the subject of a documentary of the BBC.
"In three years, Nawaz Sharif has burdened the people with billions in debt. Every Pakistani citizen has a debt of Rs120,000, which is increasing every day," Imran said.
This is his first visit to Azad Kashmir after returning from the United Kingdom. Imran Khan as also convened a worker's convention in Islamabad on 20th July where he is expected to announce the decision of an important march on 14th August and street protests against the government over failure to investigate over the Panama Papers. =DNA
========