Imran Khan files contempt plea against Pemra in LHC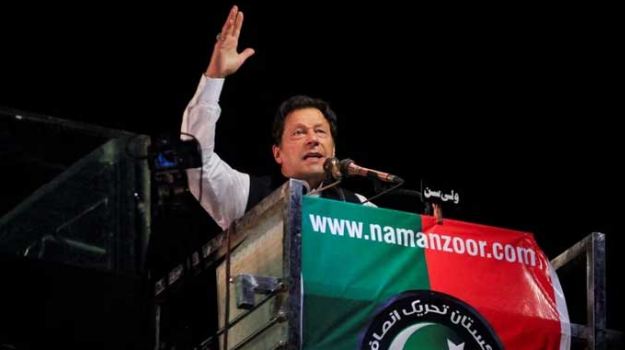 LAHORE: Pakistan Tehreek-e-Insaf (PTI) Chairman Imran Khan Saturday filed a contempt of court plea in the Lahore High Court (LHC) against the Pakistan Electronic Media Regulatory Authority (Pemra).
In his petition, Khan claimed that the electronic media regulator has not lifted the ban on his speeches despite court orders.
Last month, the provincial top court suspended Pemra's notification banning the broadcast of the PTI chief's speeches on television channels.
In view of his "provocative statements against the state institutions and officers", Pemra imposed a ban on broadcasting live and recorded speeches of Khan on all satellite TV channels with immediate effect on March 5.
The petition by the PTI chairman stated that the court had directed Pemra not to impose any ban on the broadcasting of the former prime minister's speeches which are being prevented from being aired despite orders and deemed the authority's act as contempt of court.
"That the Respondent has failed to abide by his constitutional obligations envisaged under the Article 204 of the Constitution of Pakistan, 1973," read Khan's plea.
The plea has sought action against responsible officers for contempt of court under Article 204 of the Constitution.
"The Respondent be summoned and proceeded against under Article 204 of the Constitution of the Islamic Republic of Pakistan, 1973, read with Sections 3&4 of the Contempt of Court Ordinance, 2003, and be punished accordingly for having committed willful contempt of the Order of this Honorable Court," the petition read.
The former premier, in his plea, wrote that Pemra's actions are contrary to and in contradiction with Article 10-A of the Constitution of Pakistan.
"The same are bad in law being 'ultra vires' the Constitution, illegal, without jurisdiction, against the fundamental rights of the Petitioner and of no legal effect. In view whereof, the Respondents should refrain from acting in a manner prejudicial to the interests of the Petitioners and contrary to law and Constitution," said the petition.
It added that the electronic media watchdog is being "discriminatory, oppressive, unjust, and violative of fundamental rights especially denying the access to justice to the citizens for having a fair trial and violative of Rule of Law and due process of Law."
"That impugned action of the Respondent is 'ultravires' according to Articles 8, 9, 18, and 25 of the Constitution of the Islamic Republic of Pakistan 1973," the petition mentioned.
Khan also stated that Pemra has "willfully flouted" the court's judgment lowering its prestige and honour. The watchdog, through the order's violation, has ridiculed the authority of the court resorting to clear disobedience; hence, it is "liable to be punished as prescribed by the law of the Contempt of Court."