Impossible to conduct elections on new digital census: Ahsan Iqbal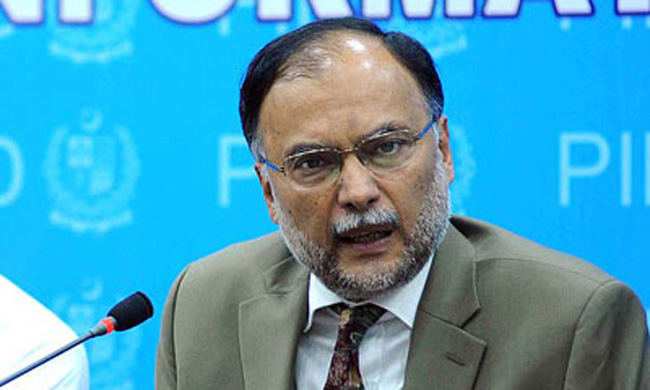 ISLAMABAD: Federal Minister for Planning and Development Ahsan Iqbal said Friday that elections within the stipulated time are only possible if they are conducted on the basis of the census carried out in 2017.
The minister's remarks came when he was asked about the legal complications arising from the delay in the notification of the digital census — which concluded on May 15 — on Geo News' programme "Aaj Shahzeb Khanzada Kay Sath".
The provisional results of the census released by the government showed that the population had reached 250 million, and under Article 51 of the Constitution, seats in the National Assembly must be allocated on the basis of population in accordance with the last preceding census officially published.
So, even if the results are notified by the Council of Common Interests (CCI), there's no time left for the Election Commission of Pakistan (ECP) to carry out the delimitation process, which needs at least 4 months.
Secondly, the coalition government doesn't have the two-thirds majority in the NA needed for the constitutional amendment to change the number of seats in the legislature.
Speaking to the anchorperson, Ahsan Iqbal said that according to the schedule, the census results were to be notified by April 30.
However, the minister added the final date was extended multiple times at the request of the provinces due to the discrepancies identified during the enumeration process.
"As the final census revealed an abnormal increase in population in some areas, the committee of demographers recommended that areas with undercounts or overcounts should be investigated with the help of SUPARCO. Because the results were to be presented in CCI, they had to be authentic."
Ahsan Iqbal said that even if the census is finalised immediately, it is impossible before July 30.
The federal minister — who previously rejected elections in Punjab and Khyber Pakhtunkhwa, saying the CCI had decided to hold polls on the fresh census — said that after the new census, the process of delimitation remains, and the ECP has to take the final decision on the election date.
"If elections are to be held, they will have to be conducted on the basis of the old census, it is not possible to release the results of the census according to the new election schedule."
The minister said that a two-thirds majority is required for a constitutional amendment, adding that Prime Minister Shehbaz Sharif has said that the government would hand over the reins to the caretaker setup after completing its term.
He also opposed the delay in polls, saying the country may move towards a new economic crisis if the uncertainty is prolonged.