Imam-e-Kaaba stresses upon comprehensive strategy for Halal food in Muslim societies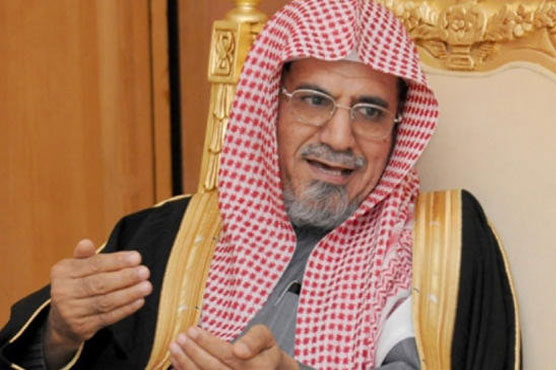 ISLAMABAD, OCT 25 (DNA) – Imam-e-Kaaba Professor Dr Saleh Bin Abdullah Bin Hemeid has called upon Muslim societies to devise a comprehensive strategy for availability of Halal food while urging that unnecessary decrees in this regard shouldn't be released as it's a matter that pertains to authentic forums.
He was addressing at International Islamic University Islamabad (IIUI) in an international conference on "Halal Food: Principles,Shariah standards and contemporary issues."
"Not only eating but issues of medicines and beverages are required to be addressed when it comes to Halal Food as Haram food leaves negative effects on human body," Imam-e-Kaaba said.
He maintained that business of Halal food is a great deed. Imam-e-Kaaba told that Saudi Arabia's Islamic Fiqha Academy had arranged many conferences and sessions on Halal food and it had recommended guidelines in this regard.
Talking about Pak-Saudi relations, Imam-e-Kaaba said people of KSA love Pakistanis as there is no alternate to the intimacy that they have for two Holy Mosques and KSA.
Speaking in the ceremony, Saudi Ambassador Nawaf Saeed Al-Malki asserted that Halal food was the best trade and its access to all Muslims was an important responsibility. He stressed that Muslim countries could give a positive message to the world by promoting Halal food. He also hailed IIUI for its efforts and service to Muslim world.
Mir Dostain Domki, Minister of State for Science and Technology said the ministry, after observing the requirement of Halal food in Muslim world, had established an institution namely Pakistan Halal Authority which has been passed in parliament and will begin to work soon.
Rector IIUI Dr Masoom Yasinzai said that thesuccess of the Halal food business in Pakistan was impossible without concerted efforts, strategies and measures to support the development of Halal industry.
He added that Pakistan had great potential for Halal food trade as 30 million people are associated to livestock. IIUI Rector added that by utilizing the grazing fields of Balochistan, the country could meet the requirements of Halal food of Muslim world which will also strengthen the Pakistani economy.
Dr Ahmed Yousif Al-Draiweesh, IIUI President apprised the participants about IIUI activities for research, dialogue and quality education, while he hoped that the conference would bring workable solutions to the contemporary issues of Halal food and participants will be able to introduce a new roadmap to build Muslim economies and promote Halal food.
Earlier, Dr Tahir Hakeem, Dean Shariah and Law, welcomed the guests and thanked for attending the event.
The event was also addressed by the Minister of communication, Dr. Hafiz Abdul Kareem and Chairman Halal committee and former Rector IIUI Justice (R) Khalil-ur-Rehman. The inaugural ceremony was also attended by Vice Presidents of the university, Deans, DGs, Directors and more than 60 national and foreigner paper presenters of the conference.