ILSA to create more than a 1000+ jobs in Pakistan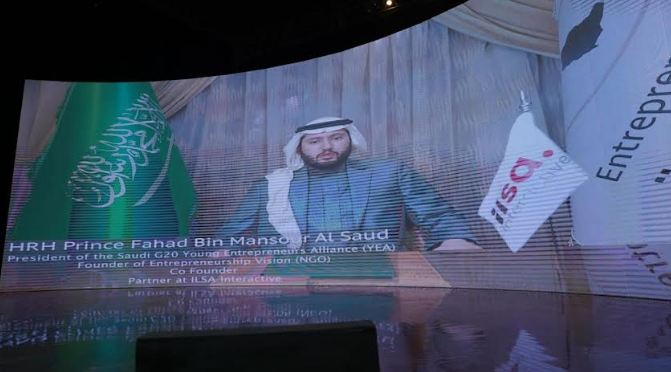 DNA
ISLAMABAD, JAN 8: Prince Fahad Bin Mansour Al Saud Co Founder  Partner at ILSA Interactive announced that  ILSA Interactive is looking forward to create more than a 1000+ jobs in Pakistan, Saudi Arabia and Globally.   expecting to have more than 300+ Projects with a minimum Total Project Value of a $100 million dollars For the next  5 Years.
HRH Prince Fahad Bin Mansour was addressing the closing ceremony of Pakistan's largest tech conference and expo, Future Fest 2023 in Lahore in the presence of a delegation of Saudi startups & venture capitalists who will meet Pakistani companies and key stakeholders to explore potential opportunities, by video link from Riyadh saudi arabia since was not able to attend the conference for urgent  commitments.
"We are having ambitious Strategic plans  for our company in which we plan to forge partnerships with IT companies Universities big enterprises in Pakistan and elsewhere". HRH Prince Fahad Bin Mansour noted
Prince Fahad Bin Mansour added that Under the leadership of the Custodian of the Two Holy Mosques King Salman, vision 2030 was launched, as a roadmap drawn up by His Royal Highness Crown Prince Muhammad Bin Salman. A Vision that is being realized today in the public sector's operating model, the economy, and society as a whole.
"The vision of HRH Crown Prince opened Saudi Arabia to the world, built and launched platforms for future growth, and significantly improved citizens' quality of life" he said .
HRH Prince Fahad Bin Mansour is President of the Saudi G20 Young Entrepreneurs Alliance (YEA) Founder of Entrepreneurship Vision (NGO) He ponited out that Saudi Arabia has had established a plan for digitization, called the National Strategy for Digital Transformation successfully, and established a framework for digital transformation in sectors including finance, commerce, logistics, and information technology.In addition to that, The Kingdom of Saudi Arabia has also encouraged using artificial intelligence to achieve Vision 2030 and Smart Government Strategy objectives.
The Prine said that The strategy is expected to set Saudi Arabia's Artificial Intelligence AI market to touch $135  billion by 2030, which is estimated to contribute %12.4 percent to the Kingdom's (GDP). The Kingdom of Saudi Arabia maintains a robust and Secure digital infrastructure, accelerating digital transformation and Cyber Security to ensure sustainable Communication platforms. This structure has enabled the Kingdom to face public and private sector disruptive crises, ensuring business continuity, educational operations, citizen requirements, and daily resident lives. The Kingdom has been ranked among the top ten developed countries globally for its robust digital framework.
The Prince stressed that The Technology sector is booming with Such huge new smart cities like NEOM the futuristic city for dreamers, innovators, and creators. Moreover the public and private sectors is rapidly adapting to the digital transformation program of the vision 2030.
"I strongly believe that with such huge IT infrastructure talent and startups in Pakistan both private sectors can forge partnerships that can be the game changer in the IT sector for Both countries.he added
Speaking about  ILSA Interactive , the Young prince says "I would like to announce At Future Fest, that we ) will be proud to be the catalyst for this partnership and to provide a platform for greater collaboration and growth and indeed a new dimension of cooperation And mobilize and provide a platform for greater development, to promote the longstanding strategic relationship between Saudi Arabia and Pakistan.
Shedding lights on The Saudi ministry of communications and Information Technology initiatives , he said the ministry aim to build and stimulate a sustainable ecosystem for the development of digital skills and contribute to bridging the gap between supply and demand following the requirements of the labor market, by increasing opportunities for specific training for national cadres locally, reducing training costs, stimulating and increasing quality partnerships and thus qualifying distinguished national cadres capable of meeting the requirements of The current and future labor market.
"The digital economy, powered by innovation and technology, has recently, grown rapidly, becoming the backbone of our societies" he added .
The Digital Cooperation Organization being multilaterally focused on achieving digital prosperity for all by empowering youth, women, and entrepreneurs, is leveraging the accelerative power of the digital economy to drive economic growth and increase social prosperity.
He pointed out that The resources in Pakistan are very talented in all fields. I had a pleasant experience with them. Technical Resources, User Experience and Quality Assurance resources have been great to work with.
He ended his speech by saying in urdu  " Saudi Pakistani Dosti Zindabad
Last week the prince has announced the Establishing of the Saudi – Pakistan Tech House that will have its headquarter in Riyadh, The capital of Saudi Arabia, and will have it's first branch in Lahore, with a plan to have our Saudi Tech houses in Every Region from East to West.