ICCI demands industry status for hospitality sector to boost its growth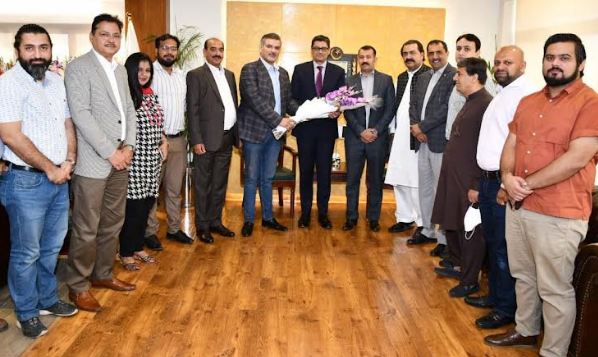 Islamabad, OCT 12 /DNA/ – Muhammad Shakeel Munir, President, Islamabad Chamber of Commerce and Industry, said that the hospitality sector in Pakistan has immense potential to grow and urged that the government should grant it industry status so that this sector could achieve better growth and play more effective role in the economic development of the country. He said this while talking to a delegation of Islamabad Restaurants Association that called on him led by President Khurram Khan. Junaid Ahmed, Asher Hafeez, Sikandar, Habibullah Zahid, Usman Bajwa, Ms. Hajra and others were in the delegation.
Muhammad Shakeel Munir said that Pakistan was an emerging market in which there were attractive business opportunities for hotels and restaurants but due to lack of industry status, the sector has yet not grown to its potential. He said that giving industry status to hotels and restaurants would increase investment in this sector and spur its better growth, which would create plenty of new jobs. He said that currently thousands of people were employed in hotels and restaurants, but due to the Covid-19 pandemic, this sector has suffered huge losses. He urged that the government should provide a relief package to this sector in order to alleviate the plights of its business community. He assured that ICCI would extend all possible cooperation to the Association in resolving the issues of their business community.
Khurram Khan, President, Islamabad Restaurants Association, said that many small hotels and restaurants have faced closure due to the outbreak of coronavirus, but no relief was provided to them by the government. He said that it was not possible to restore the closed hotels & restaurants without the support of the government. He demanded that the government should provide relief in electricity and gas bills to this sector and also announce a relief package for revival of its business activities. He said that a large number of people were working in the hospitality sector, but many of them have lost jobs due to the closure of some businesses. He urged that the government should come forward to support the revival of closed businesses. He further said that the population of Pakistan was rising and there was a great demand for good hotels and restaurants in the country. Therefore, he stressed that the government should give industry status to the hospitality sector for its better growth. He said that in these difficult times, FBR was sending notices to the hospitality sector and urged that FBR should withdraw notices till the restoration of business activities to normal routine.
ICCI Senior Vice President Jamshed Akhtar Sheikh, Vice President Muhammad Fahim Khan, Junaid Ahmed, Asher Hafeez, Habibullah Zahid and others also spoke at the occasion and emphasized that the government should extend full cooperation to revive hospitality sector. They also demanded industry status for their sector which would yield beneficial results for the economy.