ICCI calls for focusing on real estate sector to revive economy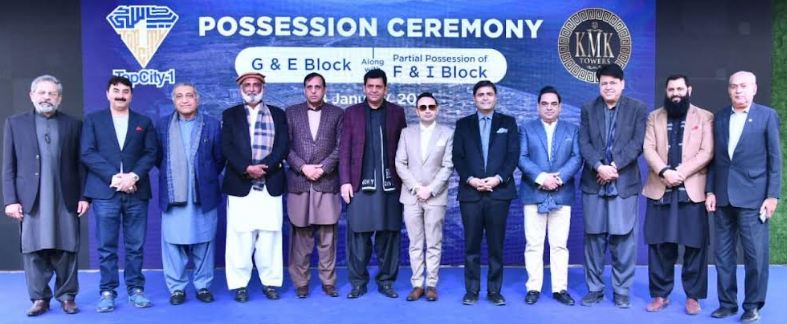 Islamabad, JAN 18: Ahsan Zafar Bakhtawari, President, Islamabad Chamber of Commerce and Industry (ICCI) has called upon the government to focus on the real estate sector for reviving the economy as this sector has great potential to bring the country out of the current economic turmoil and put it on the path of sustainable growth. He said that the business of around 70 industries is connected with the construction sector and its better growth boosts of the business of all allied industries that stimulates the economic growth of the country. He said this while addressing as chief guest at a function organized by the Top City Islamabad to give complete possession of its Block G & E and partial possession of Block F & I to the members. Top City has already handed over the possession of its Blocks A, B, C & D to the members.
Ahsan Zafar Bakhtawari said that due to high taxes and other multiple factors, the prices of construction material including cement, steel and other items have increased manifold. He said that this situation has stagnated the business activities in the real estate and construction sector due to which unemployment is on the rise. He said that imposition of high taxes on real estate sector is also affecting its business activities and urged that the government should rationalize taxes on this sector, reconsider tax on deemed income on immovable property and improve the business environment for the real estate sector to enable it to grow and contribute more to the economic development of the country.
ICCI President said that the overseas Pakistanis are interested in investing in the real estate sector and the government should offer them good incentives that would bring billions of dollars of investment to the country. He said that the government can take the country's economy from recession to sustainable development by focusing on the real estate and construction sector.
Brig. (Retd) Sikandar, Chief Operating Officer of Top City-1 briefed the participants about the project. He said that a sewerage treatment plant of 2.5 million gallons capacity is being constructed in the Top City-1 and a lake is being constructed to store 10 million gallons of rainwater. He said that a golf course, zoo, premier club on 100 kanal area, mosques, schools and other facilities will be provided in the housing project.
Sardar Yasir Ilyas Khan former President ICCI, Sardar Tahir Mehmood President and Ch. Zahid Rafique Secretary General Islamabad Estate Agents and others also spoke at the occasion and stressed that the government should create a conducive ecosystem for the real estate and construction sector.