Hungary willing to support Pak in sports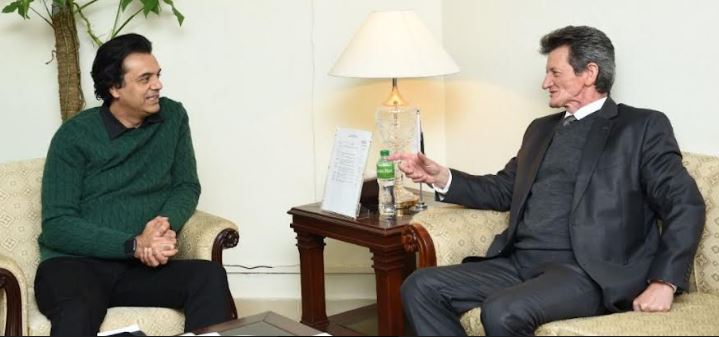 Ambassador Bela Fazekas says Hungary has expertise in setting up sports academies and coaching, especially in the sports of football; hints at Hungarian PM visit to Pakistan next month
Special Correspondent
ISLAMABAD, Hungary is willing to support Pakistan in sports development said Bela Fazekas, Hungarian Ambassador in Pakistan who met with SAPM on youth affairs Usman Dar along with Tivadar Takacs. 
Welcoming the ambassador, Mr. Dar briefed the envoy regarding Kamyab Jawan Programme; envisioned for youth development in Pakistan. He said that Kamyab Jawan Programme is working in three areas including education, employment and engagement of youth through various initiatives.
"We have disbursed more than Rs. 30 billion against the target of Rs. 100 billion among youth for business loans encouraging entrepreneurial culture and creating employment opportunities in the country. We have a Rs. 10 billion ongoing project for technical skills education, especially in hi-tech fields. We have recently rolled out Rs. 4 billion sports and youth engagements projects with the collaboration of Higher Education Commission of Pakistan", said Mr. Dar.
Mr. Bela Fazekas congratulated SAPM and his team for the mega sports event recently held in Islamabad. " It was fascinating development for sports in Pakistan. We are willing to collaborate and cooperate for development of sports in Pakistan", said the ambassador.
The Ambasador further said Hungary has expertise in setting up sports academies and coaching, especially in the sports of football.
" The Hungarian Prime Minister who is also a sportsman like the Pakistani Prime Minister is expected to visit Pakistan in the month of February and we are looking forward to signing agreements for cooperation in various areas, including sports", added the Ambassador.
SAPM welcomed the offer for cooperation regarding sports by the Hungarian Ambassador. It was agreed to hold follow ups meetings of technical and working teams from both sides so that areas for bilateral cooperation are identified before the scheduled visit. The meeting was also attended by senior government officials.