Hong Kong protesters clash with police as activists target Chinese visitors to explain their cause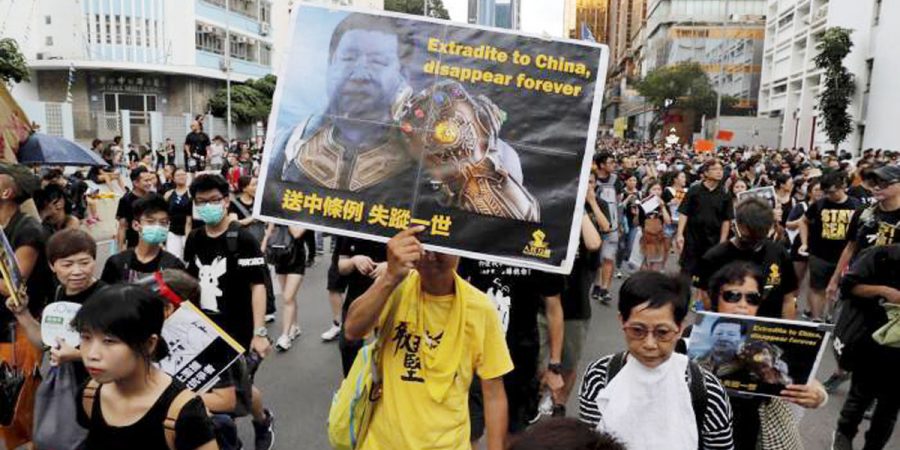 HONG KONG, JUL 08 (DNA) – Protesters against an extradition bill in Hong Kong attempted to spread their message to Chinese tourists and visitors during their latest march through the streets.
Many of the marchers chanted "Free Hong Kong" and some carried British colonial-era flags at the demonstration – the first major rally since the storming of the legislative council building last week.
There were clashes between some activists and riot police trying to drive back crowds in the Mong Kok neighbourhood. Live TV footage appeared to show a handful of protesters being detained after being wrestled to the ground by officers.
Organisers claimed that 230,000 people took part on Sunday, while police estimated a total of 56,000 took to the streets.
Previous rallies have received little coverage in China, where censors have blocked news of dissent ever since the Tianananmen Square massacre in Beijing in June 1989.
"We want to show our peaceful, graceful protest to the mainland visitors because the information is rather blocked in mainland," said organiser Ventus Lau. "We want to show them the true image and the message of Hong Kongers."
Activists had produced adverts urging people to join the demonstration and distributed newspapers headlined "Millions against Communist China shock the world" in a shopping district popular with mainland Chinese tourists.
Local broadcaster RTHK reported that more than 1,000 police officers were on standby at the station. Police were guarding the exits and sections of the building, including food and drink outlets, had been blocked off for security reasons, it claimed.
Online train tickets between Hong Kong and Shenzhen on the mainland were displayed as sold out between 2.30pm and 6.30pm, coinciding with the hours of the protest.
Travellers arriving in the city told reporters they were not aware of the demonstration or the extradition bill.
Protests against the bill, which would allow people to be sent to mainland China for trial in courts controlled by the Communist Party, have drawn millions of people on to the streets of the former British colony in recent weeks.
It has become the greatest popular challenge to Chinese President Xi Jinping since he took power in 2012.
Hong Kong chief exectuive Carrie Lam suspended the bill and offered closed-door talks to students from two universities but activists have called for the bill to be withdrawn permanently and called for a halt to investigations of protesters.
During last week's protests a black banner was hung in the Hong Kong legislative chamber with the words "No rioters, only tyranny. Only rule by tyranny" – a reference to many protesters's often stated belief that Beijing is an "authoritarian regime".
"This is our fourth march because we think this government is not taking care of Hong Kong," said Dan Lee, who joined Sunday's protest with his wife and their three children. "We need to save Hong Kong and we need to come out for our future generations."
Hong Kong returned to Chinese rule in 1997 under a "one country, two systems" formula that allows rights not enjoyed in mainland China, including freedom to protest and an independent judiciary.
Lawyers and rights groups say China's justice system is marked by torture, forced confessions and arbitrary detention.