High-level flood in Sukkur Barrage as casualties rise by 57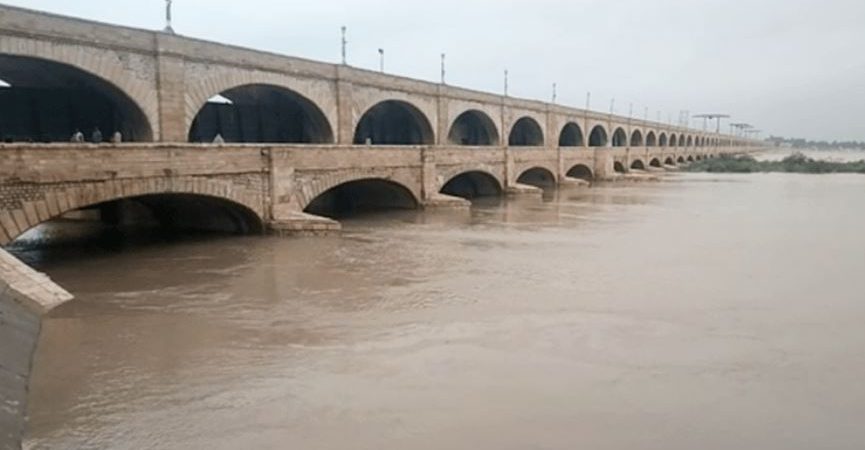 Sukkur: Sindh's Dadu district continued to face the threat of widespread devastation on Saturday as a high-level flood passed through Sukkur Barrage and water levels persistently rose on Manchhar Lake.
According to a Flood Forecasting Division report, a high-level flood of 559,988 cusecs was passing through Sukkur Barrage at 6am today.
The situation worsened by afternoon, when Rafique Ahmed Jamali, an MNA from Dadu, told that floodwater had been gushing towards the district's Johi tehsil, parts of which were already inundated.
Key Developments
Flood death toll reaches 1,265, with 57 casualties reported during last 24 hours
High-level flood passing through Sukkur Barrage
Water level on the rise in Manchhar Lake
Over 15,000 flood victims sheltering in Karachi relief camps
More aid arrives from France
Met Office says more rain expected in Punjab and KP
Work to restore electricity to flood-affected areas underway
British high commissioner visits Nowshera's flood-hit villages
Sherry Rehman appeals for medicines from pharmaceutical companies and multinationals
---
Dadu district has turned out the be the new epicentre of flooding as water flows towards the country's south after wreaking havoc in the areas up north.
Meanwhile, the flow at Guddu barrage started reducing by this morning.
The barrage which has a discharge capacity of 1.2m cusecs had passed the peak of the second high flood of 561,118 cusecs at 6pm on Friday evening. At 6am today, the discharge dropped to 553,183 cusecs up and downstream. The flow later dropped to 532,634 cusecs up and downstream by 12pm.
The two barrages had passed the peak of the first high flood close to 580,000 cusecs on Aug 23 at Guddu and on Aug 25 at Sukkur. These flows are now reaching Kotri barrage slowly.
Kotri barrage recorded a flow of 543,592 cusecs upstream and 532,787 cusecs downstream at 12pm today. It started recording a rising trend today when it passed a flow of 508,102 cusecs upstream and 498,497 cusecs downstream at 6am.
Record monsoon rains and melting glaciers in northern mountains brought floods that have killed at least 1,265 people since June 14, with 57 casualties reported during the last 24 hours, according to the National Disaster Management Authority (NDMA). The total number of people who have suffered injuries stands at 12,577, the NDMA said.
On Friday, Dadu city, the capital of its namesake district, was surrounded by floodwaters — with an inundated Khairpur Nathan Shah city to the north; Manchhar Lake to the south; the Main Nara Valley (MNV) drain to the west; and the Indus to the east.
In the Dadu district, several villages were under as much as 11 feet of water, according to Bashir Khan, a local resident who is in contact with people remaining in the area. "My house is underwater, I left my place four days ago with my family," he told Reuters.
In neighbouring Mehar, residents were building a dyke in an attempt to prevent floodwaters from entering the town, he said.
According to Dadu Deputy Commissioner Syed Murtaza Ali Shah, efforts are afoot to rescue stranded individuals and families.
Earlier, Kotri Barrage chief engineer had told on the phone that "we will be receiving a peak of high flood which passed by Sukkur Barrage on Aug 25". At the time, he had appeared confident that river dykes in his territorial jurisdiction were safe and strong enough to withstand the flows. Sukkur Barrage had passed the first high flood peak of 579,753 cusecs on August 25 at 6am.
Separately, the water level in Manchhar lake was also on the rise, prompting Jamshoro Deputy Commissioner Fariduddin Mustafa to issue a flood alert.
He said while speaking today that if the water level would rise further, residents from nearby localities could be evacuated.
Sardar Sikandar Rahopoto, an MNA from Sehwan, told that the lake's protective dykes were being monitored and relief efforts were underway.
A day ago, the lake was receiving discharges from the Main Nara Valley Drain (MNVD), which is known as Right Bank Outfall Drain (RBOD-I). Breaches had been reported in MNVD, which had received hill torrents and caused breaches in the Flood Protective (FP) bund at multiple locations.
Subsequently, the lake's flows into the Indus River were measured at around 10,000 to 15,000 cusecs.
"Now river Indus is not accepting huge flows as it is already having very heavy flows. Earlier, a flow of 30,000 cusecs was being easily released from the lake," irrigation officer Mahesh Kumar had told from Manchhar Lake.
On Saturday, MPA Mujeeb ul Haq from the area said while speaking to that machinery was being employed and work was underway to strengthen the protective dyke on MNVD's right side.