HEC hosts prize distribution ceremony for int'l Science Olympiad participants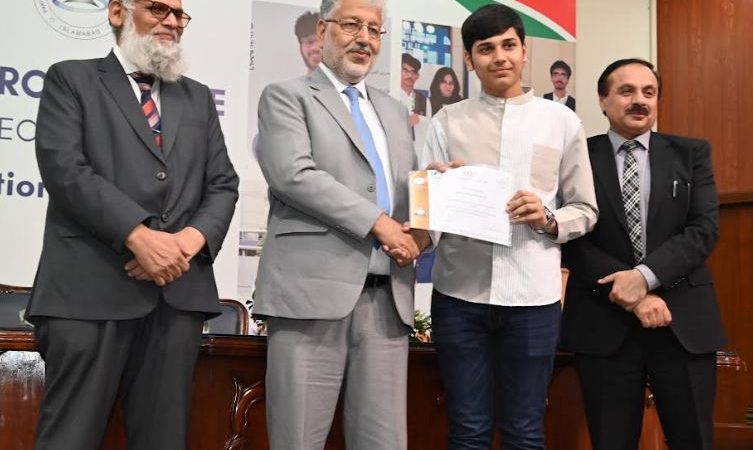 DNA
ISLAMABAD, OCT 17: The Higher Education Commission (HEC) under the STEM (Science, Technology, Engineering, and Mathematics) Careers Programme hosted a prestigious Prize Ceremony to honour the outstanding achievements of participants in 2022 and 2023 at International Science Olympiads.
Chairman HEC Dr. Mukhtar Ahmed was the chief guest. The ceremony was attendedd by Executive Director HEC Mr. Awais Ahmad, Rector Institute of Engineering and Applied Science (PIEAS) Dr. Naseem Irfan, faculty members, students, and relevant HEC officials.
The STEM Career Programme is a joint venture of HEC and PIEAS. It has two objectives to pursue. First, it aims to inspire youth of the nation to opt for careers in Science, Technology, Engineering and Mathematics (STEM) and prepare them for participation in the annual International Olympiad in Physics, Chemistry, Biology and Mathematics. Second, it targets encouraging Engineering students to come up with innovative solutions to problems of national interest preferably related to local industry and Research & Development. National Science Talent Contest (NSTC) strives to address the first part of the mission, and National Engineering Competition (NEC) addresses the second part of the mission.
In his address, Chairman HEC Dr. Mukhtar Ahmed expressed his heartfelt appreciation for the PIEAS team, recognising their leadership role in this prestigious endeavour. He said that the event is a testament to the HEC's dedication to nurturing talent and competing on a global scale. He emphasised the unwavering support of the Government and HEC in standing behind initiatives like the Science Olympiads. He went on to express his optimism, stating, "Our teams have been performing exceptionally well, and we're keeping our fingers crossed for gold medals in the future."
Dr. Mukhtar Ahmed emphasised the holistic development of individuals, saying, "Our aim is to make a complete human being."
Dr. Naseem Irfan highlighted the importance of benchmarking with global competition and the need for continuous improvement in STEM education. He stressed the importance of expanding STEM careers programme and expressed his intent to continue this exercise to nurture future talent. Addressing the International Science Olympiad (ISO) participants, he encouraged them to contribute to their domains an strive for excellence. He urged them to keep their curiosity alive, emphasising that only innovators would survive in the long term.
The event was a celebration of academic excellence, recognising the hard work of the students who participated in ISO in various fields of science. In the year 2022, the students who emerged as winners and brought home Bronze Medals were Muhammad Bilal Asmatullah and Osman Siddique in the field of Physics. In the year 2023, Soban Safdar won bronze medal in field of Biology and Ahmed Raza won bronze medal in the field of Mathematics.
In addition to the winners, HEC also honoured students with an Honorable Mentions in ISO for their commendable performances.