Have come with hope for improved relations, says Swaraj on arrival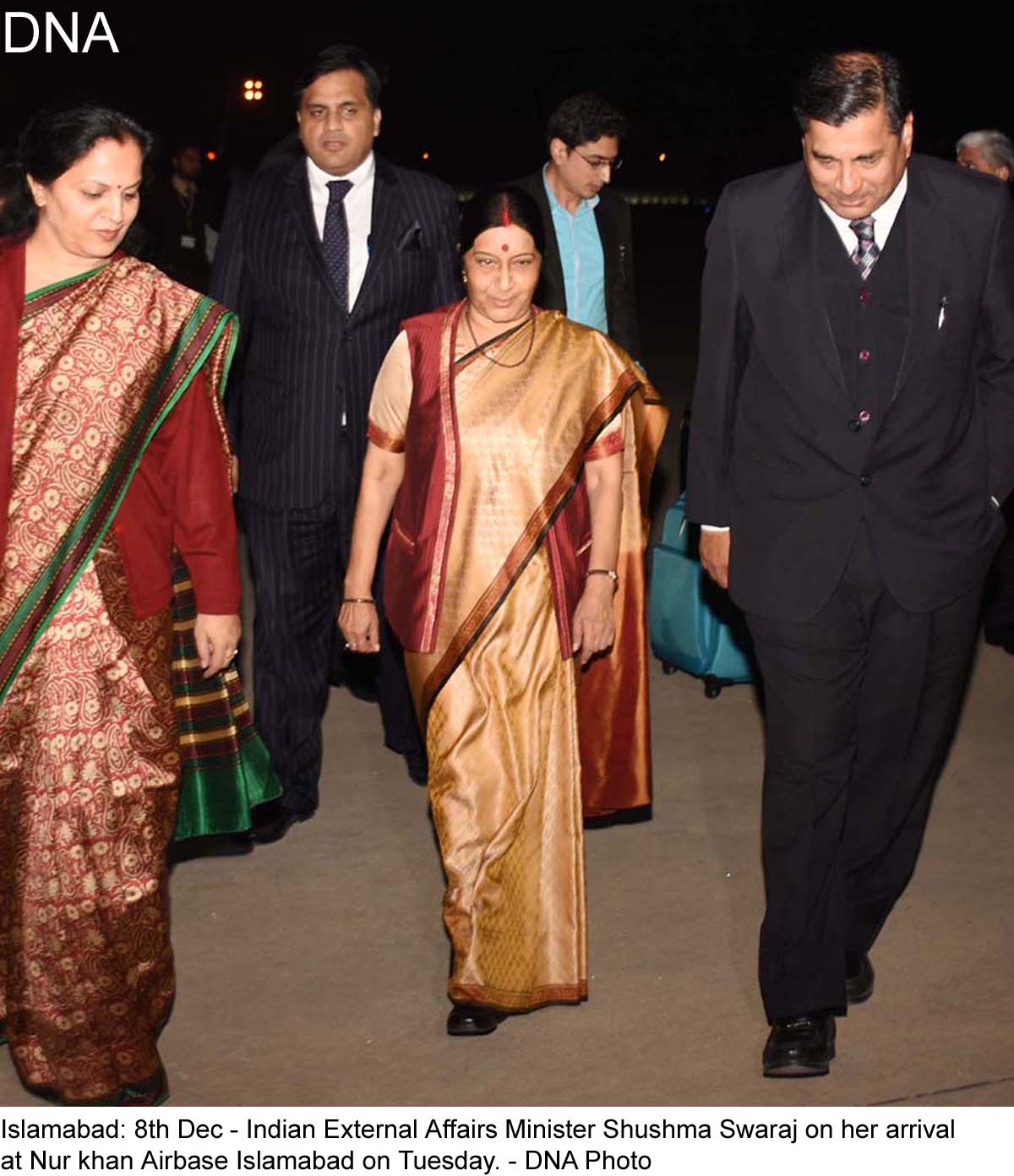 ISLAMABAD: Indian Foreign Minister Sushma Swaraj arrived in Islamabad Tuesday evening, amid criticism in New Delhi, to attend the Heart of Asia Conference and hold talks with Pakistan on multiple issues.
Swaraj was received by senior foreign office officials. Talking to reporters after her arrival, she said, "It is a crucial conference [Heart of Asia] that I have come to attend."
She said she hoped for improved relations between the two countries and that was the message she brought with her.
"I am looking forward to meeting PM Nawaz and adviser on foreign affairs Sartaj Aziz," she added.
Her visit is also expected to clear confusion over stalled cricket ties between the two countries, with a green signal expected for a much-hyped India-Pakistan cricket series scheduled for later this month.
Swaraj is leading an Indian delegation to Islamabad for talks on Afghanistan, India's foreign ministry spokesman Vikas Swarup had said yesterday on Twitter.
Earlier today, PM Nawaz chaired a high-level meeting in Islamabad, attended by army chief and senior cabinet members, to hash out Pakistan's stance, particularly regarding Afghanistan and India.
Later, Nawaz also held a one-on-one meeting with army chief Gen Raheel Sharif to discuss 'security-related matters.'
Swaraj's visit is the first ministerial-level visit to Pakistan since the then foreign minister, SM Krishna, travelled to Islamabad in 2012, which was before Modi became prime minister.
Since Modi's ascent to power, tensions between the two countries have remained high, with foreign secretary-level talks cancelled last year and security advisers' dialogue abandoned in August this year.
But the relationship appears to have thawed after Modi and Sharif resumed high-level contacts with a brief conversation at a climate change summit in Paris last week and their national security advisers met in Bangkok on Sunday.
The brief and unannounced meeting between the two security advisers in Bangkok and a joint statement they issued shows New Delhi rowing back from its recent position and agreeing to discuss Jammu and Kashmir in the otherwise familiar mix of issues.
Earlier, security adviser level talks between India and Pakistan, scheduled for August 23 and 24, were canceled as both nations reached a deadlock over Pakistan's insistence to hold a meeting with Kashmiri Hurriyat leaders in New Delhi on August 23 despite India's 'advice' to the contrary.