GTA to establish Taekwondo Centre of Excellence in Pakistan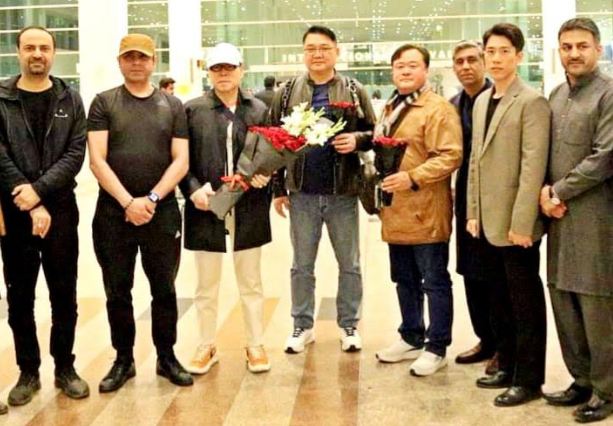 AFZAL JAVED
ISLAMABAD: The three-member delegation of Gyeonggido Taekwondo Association (GTA) from Korea arrived in Islamabad to finalise the modalities of establishing the Taekwondo Centre of Excellence in Pakistan.
The three-member delegation led by GTA President Kim Kyuengduk, Executive Director, Kim Pyeong, Director Mun He Sung received warm welcome by Federal Minister for Inter-Provincial Coordination( IPC) Ehsan ur Rehman Mazari, Acting Director General Pakistan Sports Board Muhammad Ibrar, President Pakistan Taekwondo Federation (PTF)  Col. (Retd.) Waseem Janjua, Korean Poomsae head coach Choi Seong and other officials at the arrival of Islamabad.
The GTA delegation who is on five days visit to Pakistan visited different locations of twin cities to finalise the modalities of establishing centre of excellence as Pakistan Taekwondo Federation and Gyeonggido Taekwondo Association of Korea have already signed a Memorandum of Understanding (MOU) to cooperate in the development of matters of mutual interest of this sport in both the countries.
"We are very much happy to again here in Pakistan to find out some more options to establish centre of excellence for taekwondo and martial arts games", said GTA President Kim Kyuengduk adding that Gyeonggido Taekwondo Association decided to supports Pakistan and their talented kids to enhance their skills in the field of taekwondo.
Kim Kyuengduk said that we wanted to establish this project in Pakistan because of wonderful efforts done by Pakistan Taekwondo Federation in last few years as well as Pakistan is like centre headquarter for South and West Asian countries and having easy approach for everyone having good option for GTA to establish centre of excellence here.
"I am very happy to receive warm welcome from Federal Minister for Inter-Provincial Coordination Ehsan ur Rehman Mazari as he promised me if I came Pakistan he will come to receive at airport", Kim said adding that Ehsan Mazari is a gentleman person who also want to promote sports in Pakistan as well.
He said that GTA will continue their support with mutual cooperation as after establishing a centre of excellence we will hold many training camps, seminars, technical courses for players and officials to enhance their skills not only in taekwondo but also in martial arts taekwondo as well.
"Everyone wants to learn and win in the taekwondo but this is the game how to respect and educate others", GTA president said adding that children's in Pakistan continue their trainings and never give-up if they don't get the opportunity as one day they will get chance to show their skills to the world.
The  Gyeonggido Taekwondo Association has great organizational power from the 17 cities of the country and will share information and other related plans aimed at enhancement of the game at each and every level with the view to improving the working of both Federations in their respective arenas.