Greece shipwreck: FIA forms teams in major cities to arrest traffickers as nation observes day of mourning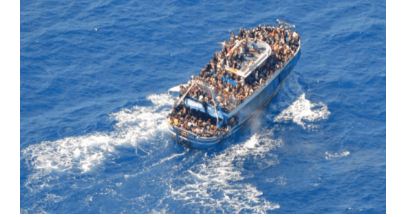 ISLAMABAD, JUN 19: The nation observed a day of mourning on Monday for the victims of last week's Greece boat tragedy as the Federal Investigation Agency (FIA) said that it had formed teams in major cities across the country to nab traffickers.
Last week, an overloaded boat — with around 750 people on board according to a European rescue support charity — sank off Greece. More than 100 people lost their lives and hundreds remain missing.
At least 400 Pakistanis, 200 Egyptians and 150 Syrians, including around two dozen Syrian women and young children, were travelling on the trawler, according to the initial information shared by survivors of the shipwreck. However, authorities have not yet confirmed the exact number of Pakistanis onboard the ship.
The Foreign Office said on Saturday that 12 Pakistanis had been found alive as National Assembly Speaker Raja Pervaiz Ashraf urged the government to "immediately investigate" the incident.
On Sunday, Prime Minister Shehbaz Sharif said that a day of mourning would be observed today and the national flag would fly at half-mast. He also formed a four-member committee to probe the facts of the incident and directed law enforcement agencies (LEAs) to trace those involved in human smuggling.
Subsequently, FIA Director General Mohsin Hassan Butt chaired a meeting at the agency's headquarters in Islamabad today.
In a statement released on Monday evening, a spokesperson for the FIA said a report on the Greece shipwreck was presented during the meeting, which stated that three inquiries had been initiated to probe the incident while six cases were registered.
"So far, first information reports have been lodged against more than 20 human smugglers and more than five traffickers have been arrested from Gujrat, Gujranwala and Lahore," he said.
The FIA spokesperson quoted DG Butt as saying that human smugglers did not deserve any leniency. "The traffickers and their facilitators are international criminals."
Butt also issued directives to take strict action against those putting up content regarding illegal border crossings on social media.
"To prevent such incidents in the future, a meeting of the FIA's inter-agency task force has also been called in which an effective strategy will be chalked out," the agency added.
Moreover, special teams have been formed in Islamabad, Lahore, Gujrat, Gujranwala and Rawalpindi to arrest the suspects as soon as possible.
Earlier today, the spokesperson said the agency's Anti-Human Trafficking Circle in Gujrat had apprehended a "key suspect" involved in the boat tragedy.
He said the captured suspect, identified as agent Waqas Ahmed, had received a sum of Rs2.3 million each from individuals in exchange for facilitating their illegal journey to Greece, adding that his involvement in acquiring money from other citizens was also being probed.
The FIA said that the apprehended suspect hailed from Wazirabad. In addition, the agency said that it was carrying out raids in order to apprehend more individuals involved in human trafficking.
The spokesperson further said that three people including a "key suspect" allegedly involved in the incident had been apprehended.
In a tweet last night, the FIA said it had arrested a suspect from Karachi airport. The suspect was also previously nominated in a case pertaining to human smuggling in Libya.
It said the suspect, identified as Sajid Mehmood, had been in hiding for the past few days and was detained while he was trying to escape to Azerbaijan.
Mehmood hailed from Mandi Bahauddin and had received a sum of Rs2.5m for the victims of the boat tragedy for their illegal journey to Europe, the FIA added.
HRCP asks state to take responsibility
Separately, in a press release issued today, the Human Rights Commission of Pakistan (HRCP) asked the state to take responsibility "for its part" in the Greece boat tragedy.
Expressing shock and grief, it said that the incident should serve as a "stark reminder to the state that it has failed to stem a longstanding and grievous human rights violation".
"Pakistan is a well-known source, transit and destination country for trafficking in persons," the commission stated. "However, it is clear that a serious lack of coordination among law enforcement agencies continues to allow traffickers to operate with impunity."
It stressed that the government must "acknowledge that the dearth of economic opportunities available in the country compels more and more people to take their chances on such routes without being aware of the risk".
The HRCP further said that it was necessary to question the efficiency of the FIA in tracking, monitoring and reporting instances of trafficking.
"The state must also implement comprehensive anti-trafficking legislation and train the public officials concerned to identify and report such crimes and hold the perpetrators to account," it added.
Minister calls for 'immediate action'
Defence Minister Khawaja Asif called for prompt action to be taken against those responsible for the incident. He said that the premier had announced a day of mourning, emphasising the need for eradicating such illicit practices.
"It should not happen, people who were arrested, some who ran away […] I think our embassies over there also know about these practices. And when people go from here, 12-13 people from one family go […] and when they exit from airports people know where they are going and the risks involved."
Asif said that he wanted to bring this on record, adding that parliament also shared the grief of the victims' families.
After Asif's speech, NA Speaker Raja Parvez Ashraf said that the incident had plunged the nation into mourning.
"I believe the government must deal strictly with such elements who exploit people under the guise of employment," he emphasised.
Ashraf urged fellow lawmakers to educate citizens in their constituencies regarding remaining cautious of such individuals.
He called upon the government to take the sternest measures against those involved in human trafficking and to ensure that they face appropriate consequences to prevent such tragedies in the future.
Separately, Climate Change Minister Sherry Rehman said that the "loss of lives of men, women and children is a moment of bereavement for all of us".
"Prayers for all the families who lost their loved ones. We also need to investigate how this happened as well as introspect on why it happened," she said on Twitter.
Ship tracking casts doubt on Greek Coastguard's account
The BBC said it had obtained evidence casting doubt on the Greek coastguard's account of last week's migrant shipwreck.
"Analysis of the movement of other ships in the area suggests the overcrowded fishing vessel was not moving for at least seven hours before it capsized," the report said.
"The coastguard still claims that during these hours the boat was on a course to Italy and not in need of rescue," the publication said, adding that Greek authorities had not yet responded to its findings.
The BBC said that data of Greek authorities showed hours of activity focused on a small, specific area where the migrant boat later sank, casting doubt on the official claim it had no problems with its navigation.
"The fishing boat had no tracker so is not shown on the map. Neither are coastguard and military vessels which do not have to share their location," the report said as it detailed the timeline of the incident.
'Victims will be treated as victims'
Separately, FIA Additional DG North Rana Abdul Jabbar said that the victims of the incident would not be charged with any criminal offence.
"I am saying this with complete responsibility that these are our victims and they will be treated as victims," he stated while speaking on Geo News programe 'Geo Pakistan'.
He urged those with information on agents and traffickers to come forward, terming the latter the "real criminals" in the case.
The FIA official said that the prosecution in such cases was dependent on the statement of witnesses, urging the victims' families to come forward. He assured them that they would be provided protection.
Jabbar said that the people responsible for the incident would be charged under the Prevention of Trafficking in Persons Act, 2018.
Tales of survivors
As of now, 12 Pakistanis – five from Gujrat and Mandi Bahauddin and Gujrat and three to four from to Sialkot– are among the survivors who have narrated harrowing tales to the media from a relief camp in Greece. Most of the Pakistanis primarily belonged to these rural areas of central Punjab and Kotli in Azad Kashmir.
From Punjab, a majority belonged to Goleki village in Gujrat and Sialkot's Jamke Cheema village, as unconfirmed reports suggested that at least 200 people hailing from Gujrat and Mandi Bahauddin were on the boat.
Usman, a resident of Kaleki, was among the lucky ones who managed to survive. He contacted his family from a camp in Greece and narrated the entire ordeal.
As per the account shared by his family, the boat had run out of fresh water and had been drifting for five days. "A cargo ship dropped some bottles of water to people on the boat after appeals," his family said, adding that the ship started to crumble after a smaller boat tried to tow it in an attempt at rescue.
A helicopter also reached the spot, but people were already drowning. "My training as a policeman came in handy and I managed to save myself," Usman told his family.
Family sources of most of the victims belonging to Gujrat, Sialkot and Mandi Bahauddin districts said that they had paid at least Rs2.5 million to secure passage to Italy.