Govt to focus on promoting mango exports: Razak Dawood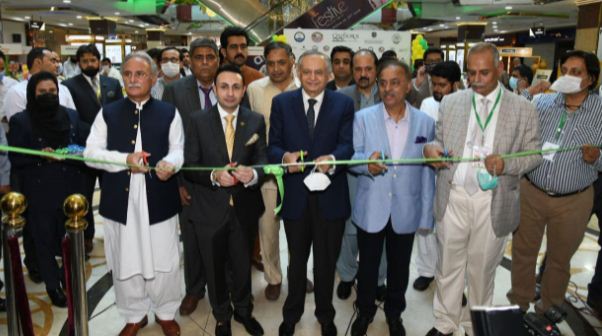 ISLAMABAD, JUL 2 (DNA) – Abdul Razak Dawood, Advisor for Commerce and Investment said that besides traditional markets, Pakistani mangoes were now entering the Australian and Japanese markets while the current government would focus on providing all possible facilitation and support to mango producers and exporters to tap more new markets for enhancing the exports of mangoes.
He said that taxes and duties on raw material of mango packaging and processing would be abolished. He said that a special committee led by him has been formed for the promotion of the mango sector.
He said this while expressing his views after inaugurating as Chief Guest the Mango Festival organized by the Islamabad Chamber of Commerce & Industry (ICCI) in collaboration with Centaurus at Centaurus Mall, Islamabad, which will continue up to 5th July 2021. He visited various mango stalls, asked the exhibitors to tell him any issues being faced by them so that he could play a role to address them.
He appreciated the initiative of ICCI for organizing a mango festival and said that such events were important to create new opportunities for promoting mango exports.
Hussain Jahania Gardezi, Punjab's Agriculture Minister was also present as Guest of Honor. Fatma Azim Senior Vice President, Abdul Rehman Khan Vice President ICCI, ICCI senior members, executive body members, diplomats of many countries including Saudi Arabia, Germany, UAE, Belgium, Palestine, Iran, Jordan, Lebanon, Bahrain, Brunei Darussalam, Azerbaijan, Kazakhstan, Belarus, Afghanistan and Nepal participated in the mango festival. About 40 exhibitors from across Pakistan have put up their stalls in the mango festival to exhibit around 160 varieties of mangoes including 4-5 sugarless varieties.
Speaking at the occasion, Sardar Yasir Ilyas Khan, President, Islamabad Chamber of Commerce & Industry said that for the first time, ICCI has organized a major mango festival in the Capital in which over 100 varieties of mangoes have been put on display to highlight their export potential for the local and foreign visitors including foreign diplomats.
He said that Pakistan exported 125,000 tonnes of mango in 2020 amid the Covid-19 pandemic. However, being an agricultural country, Pakistan has tremendous potential to further increase the production and exports of mangoes and emerge as one of its top exporters.
He proposed that the government should set up a permanent Mango Expo Centre in the Capital to showcase their potential to the visiting foreign business delegations and visitors that would help in increasing their exports.
Sardar Yasir Ilyas Khan said that our farmers were still using old mango production techniques and stressed that the government should cooperate with them in introducing the latest production techniques to increase their per hectare yield.
He said that the USA and EU were the largest importers of mangoes in the world, therefore, the government should assist mango exporters in tapping these big markets. He said that the government should provide better facilities of sorting, grading, packing and value addition of mangoes to improve their exports.
He said that the government should set up more Hot Water Treatment (HWT) plants in the country to increase exports of mangoes to high end markets.
He was of the view that the government's intervention in the whole value chain to enhance the competitiveness of mangos in the domestic and international market was important to realize the actual export potential of this king of fruits.=DNA
================