Govt needs to match army's efforts in implementing NAP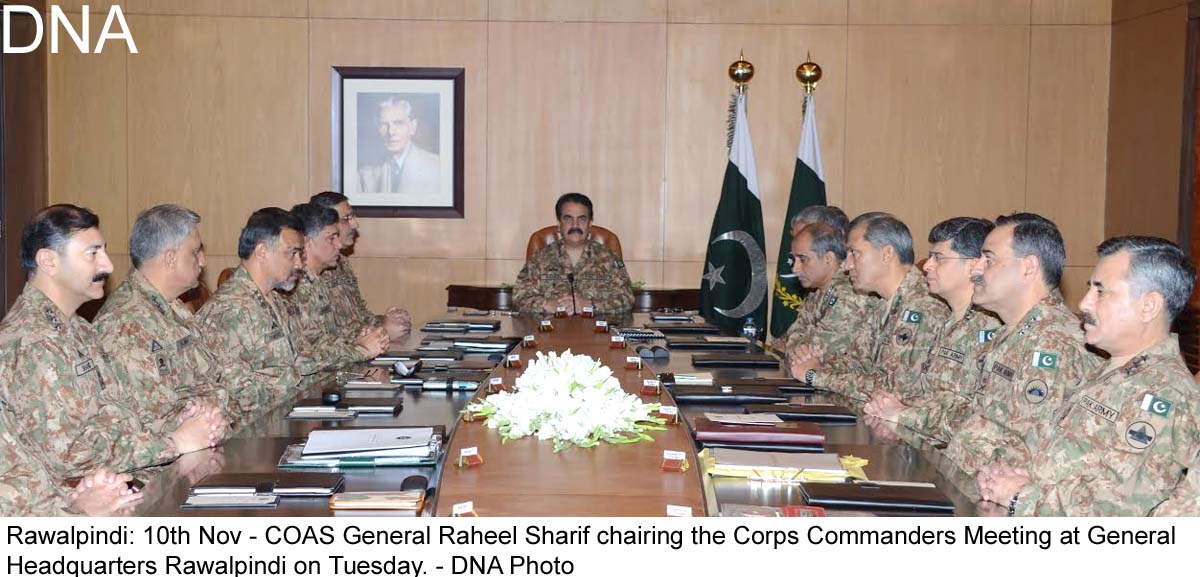 RAWALPINDI: COAS Raheel Sharif has called for "governance initiatives" to complement the success of security forces in the ongoing fight against terrorism and extremism, in a statement that suggests the military establishment is not satisfied with civilian authorities' efforts in implementing the National Action Plan (NAP).
General Raheel Sharif made the statements during a Corps Commanders meeting held at the General Headquarters in Rawalpindi on Tuesday.
The military's media wing, Inter-Services Public Relations (ISPR), in a statement said the meeting, presided by the army chief, exhaustively reviewed the internal security situation.
"While appreciating the progress of the ongoing operation and intelligence based operations (IBOs), their achievements and effects, General Raheel acknowledged full support of the nation for our ongoing operations to eliminate terrorism and extremism," the statement read.
Gen Raheel, however, underlined the need for "matching complimentary governance initiatives for long term gains of operation and enduring peace" across the country.
Progress of NAP, finalisation of Fata reforms and concluding all continuing JITs at priority, were highlighted as issues which if not implemented could undermine the effects of operations. The army chief also directed to expedite the return of temporary displaced persons (TDPs), overcoming all obstacles for development works in affected areas and the rehabilitation of all displaced families.
Earlier, the forum discussed the upcoming visit of General Raheel to the US, where, the statement added, will clearly highlight Pakistan's perspective of new emerging regional realities.