Government Determined to Financially Support Deserving Students – Usman Dar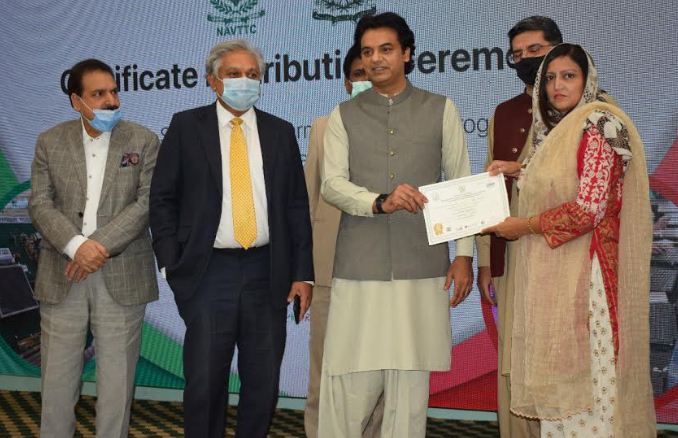 DNA
ISLAMABAD, MAY 31 – Federal Minister for Education and Professional Training Shafqat Mehmood has said that technical education is necessary along with formal education for securing jobs. Internship has become a mandatory part of formal education for awards of degrees in developed Nations, he said.
The Federal Minister for Education and Professional Training was addressing the Certificate Awarding Ceremony to the passed out young girls and boys under Prime Minister's Kamyab Jawan Program (KJP). COVID-19 has completely changed the dynamics of education at large. We need to adjust ourselves in the new environment in post pandemic scenario. The Minister apprised that shortly educational institutions will be opened with SOPs implementation. Federal Minister,Shafqat Mehmood stated the objectives of the Kamyab Jawan Program. He said that it will prove milestone towards prosperous Pakistan.
Special Assistant to Prime Minister on Youth Affairs Usman Dar, who was guest of honor at the occasion, said that PM's Kamyab Jawan Program is skilling youth through successful execution of Rs 10 Billion skill development programs. Our focus in on high end skills which open up a world market for our youth. Top technical Institutions and Universities are being engaged for skilling their students, he said. Mr. Dar appreciated Ms. Salma Aziz for sharing her success story with the audience. He said that young entrepreneurs need to get inspiration from the young lady.
M. Akjram Farid, Head Employer's Federation of Pakistan (EFP) Islamabad and Chairman Skill Development Council Islamabad represented both institutions at the Certificate awarding ceremony. He apprised that Industry is the largest single employer of skilled workforce and stressed the need to align Kamyab Jawan Program with the needs and wants of Industry. The Head of EFP Islamabad Chapter threw light on continued achievements of NAVTTC in skilling youth of the country.
M. Akram Farid, who is Chairman Skill Development Council Islamabad as well, said that NAVTTC and Skill Development Councils are playing pivotal role in honing skills to young boys and girls. He apprised that hundreds of thousands of skilled people are serving in industry both within country and abroad. Overseas Pakistanis are earning foreign exchange for the country which is the backbone of our economy.
The Chairman Skill Development Council, who is an Industrialist and a known businessman, said that Industry is willing to play its role and accommodate participants to impart practical trainings in the Industrial Labs that will allow them to work in the real production environment.
At the end of the ceremony, successful participants of the Kamyab Jawan Program were awarded certificates. The passed out participants of the Kamyab Jawan Program shared their success stories.
The chairman NAVTTC Syed Javed Hassan has said that his institution being the apex regulator body striving hard for unanimous education mechanism especially in technical education so that skilled workers in abroad may get reasonable jobs.