GoC Pano Aqil attends 30th Parents' Day Celebrations by CCL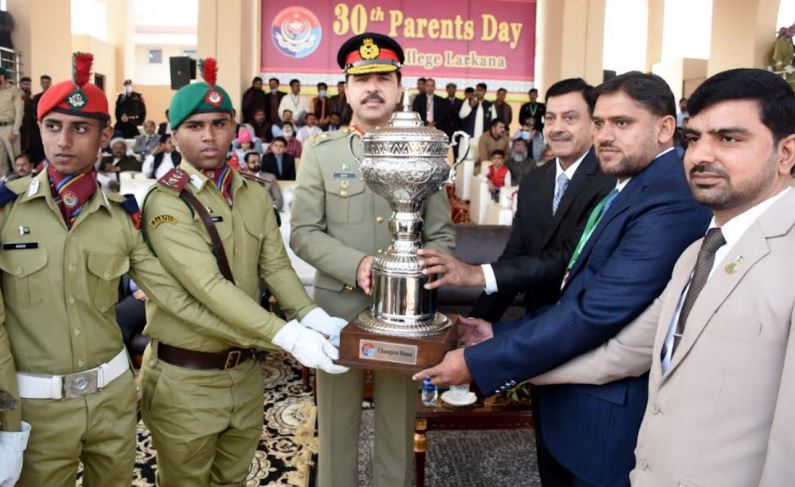 DNA
LARKANA/KARACHI: The 30th Parents' Day Ceremony was held here at Cadet College Larkana.The Chief Guest was Pano Aqil GOC Noor Wali Khan Addressing the Parents' Day, General Officer Commanding Pano Aqil Cantonment Noor Wali Khan said that it was a pleasure to inspect the Shaheed Benazir Girls Cadet College.
 The participation of Shaheed Benazir Girls Cadet in the parade proves that the intelligence of the students is admirable.
The administration of Girls Cadet College should strive for the quality education of the students and provide facilities like modern language and computer lab to the local people.
Principal Cadet College Larkana Retired Brigadier Ghulam Raza said that on the occasion of the 30th Parents' Day, due to Karuna, the entire education system was restored and the parade presented by the cadets including all the attendees on the establishment of Shaheed Benazir Bhutto Cadet College Larkana and  Congratulations on the best (PT) show presented by Girls Cadet College,
 He said that out of all the cadet colleges, Cadet College Larkana has the honor of vaccinating all the staff and cadets of Corona.
   He said that Cadet College Larkana provides scholarships to (114) students and Cadet College Larkana has the status of the largest residential cadet college in Pakistan.
  In which more than one thousand students are studying. Apart from this, in Shaheed Benazir Bhutto Girls' College Larkana also (31) girl cadets are given scholarships by Sindh Education Foundation on the basis of merit.
  At the end of the ceremony, (GOC) Panu Aqil Noor Wali Khan visited various departments of Cadet Colleges and inaugurated Science, Art and Craft Club.
  While praising the efforts of the students and expressing their happiness,
  Later, the Principal Cadet College presented the special guest as a gift from College Mamento and College Publications.
According to details, more than 5,000 parents and guests attended the event, where students performed tricks such as march past, karate and gymnastics shows and young commando march past.