Germany's stance on Middle East conflict coincides with NATO's stance, says Envoy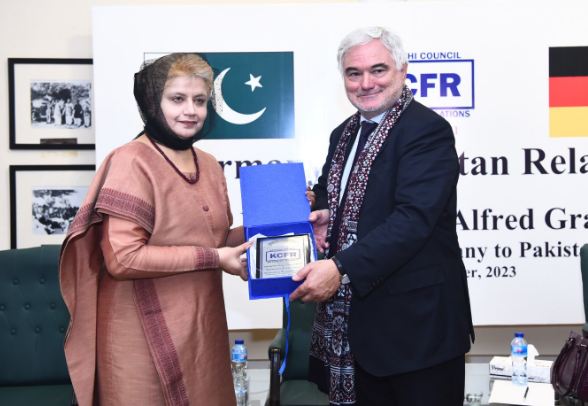 DNA
KARACHI: The German Ambassador, Alfred Granas, addressing a meeting with the Karachi Council of Foreign Relations (KCFR) said that Germany has been maintaining diplomatic and investment relations with Pakistan for 70 years and that Germany considers this region a very important region.
He added that Germany has given 150 million dollars in aid to Pakistan and that Germany's balance of trade with Pakistan is favorable to both countries. Germany has been collaborating in the electronics, medical, and environmental fields.
There is no official position of the German government on CPEC but it's a good economic project for Pakistan. Unlike Pakistan which that operates coal and nuclear plants, Germany is now closing down nuclear and shifting to renewable energy.
Replying to a question he said supplying ply weapons to Ukraine is not against the German constitution. Germany is in NATO and that's its stance on Israel coincides NATO's NATO stance. He said that there is no consensus on European Defense as proposed by the French president because Germany will have to forego its welfare support program and spend more money on defense expenditure.
The Ambassador warded off the question that European leaders don't think for themselves and do what America tells them to do. The Ambassador also said that due to political uncertainty and unfavorable business environments, ment Siemens Coy and Deutsche Bank have left Pakistan; However, Pakistan a has lot of potential for future growth.
Germany's point of view on Israel's statement that the United Nations is ending, the Ambassador replied that the end of the United Nations can only occur when all of its members decide to leave it, which is something he did not see. The Ambassador was further asked about CPEC the Ambassador said that nobody could blame Pakistan for accepting the investment; however, the benefits and costs of the strings attached to it are for Pakistan to decide.
In replying to another question as to how did Manage the energy crisis when gas was cut off from Russia the Nord 1 pipeline was blown up or dammed. GED? He replied that a lot of efforts from their Ministry of Energy had been made by arranging LNG and alternate energy from neighboring countries. Also energy sourcing became more expensive than Russian gas and therefore it had affected their exports too. A question pointed out two important German Organizations that were assisting Pakistan in development projects both in the social sector and also in infrastructure development.
The Ambassador responded that both GIZ and KFW were still active and very much had their presence in Pakistan. Even though the quantum of contribution may have reduced, as compared to some years ago. Both would be willing to look at viable projects if approached by the Pakistani authorities. In comparison, GIZ is currently more active with some ongoing projects as GIZ promotes training, employment, and sustainable economic growth in Pakistan. Together with the state-run vocational training institutes, GIZ improves the quality of training and tailors programs to the needs of the labor market. The Chairperson of KCFR, Mrs. Nadira Panjwani, underscoring the robust collaboration between Germany and Pakistan welcomed the Ambassador and spoke about the historically friendly and stable relations between Pakistan and Germany highlighting Germany's role in the industrialization of Pakistan and the support of various German aid and development bodies in the socio economic growth of Pakistan. She paid warm tributes to iconic German personalities like Dr Annemarie Schimmel and Dr Ruth Pfau who have rendered valuable services to Pakistan.